Octo-Mom's House Going To Be Auctioned Next Monday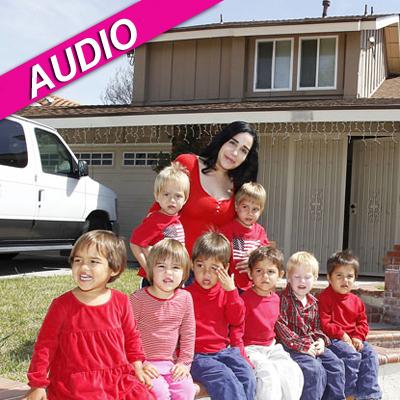 RadarOnline.com Assistant Managing Editor
Nadya "Octo-Mom" Suleman's problems are about to go from bad to tragic because her home in La Habra, California is scheduled to be auctioned off next Monday, RadarOnline.com is reporting.
As we previously reported, the controversial mother of 14 found herself at the center of a firestorm Wednesday as photos surfaced of her house showing the squalid conditions she subjects her children to. A cleaning crew arrived to the house late Wednesday to scrub the graffiti riddled filthy house from top to bottom.
Article continues below advertisement
During a radio interview with popular Los Angeles talk show hosts Jon & Ken of KFI AM 640, Amir Haddadin, who loaned Nadya the money to buy the 2800 square foot house, revealed that the bank notified him the house was going to be auctioned off on Monday. "Yes, I just found out a few hours ago, the bank (Indy Mac) is going to auction off the house on Monday.... I offered a week ago to have her give me the deed back, and she could rent the house from me, and she wouldn't have to be evicted. I talked to her dad, but he never got back to me." Haddadin says Nadya stopped making payments to him months ago, and owes him thousands of dollars.(Suleman is currently on welfare, collecting $2,000 a month.)
The 36-year-old mother's home, which has been in constant financial trouble since she moved in, has one bedroom with the words "do not enter" spray painted on the door, and there is a visible dent where a chair has been propped to keep the door closed.
"The house from the inside is really messed up because 14 people live there.....I have no idea who would possibly want to buy the house. My credit used to be in the 700's, and it's now in the 300's....the house was worth $525k, I have no idea how much it's worth now," Haddadin said during the interview. Amir didn't know if Nadya had been notified about the impending auction.
Article continues below advertisement
The Orange County Children and Family Services department was called by Octo-Mom's hairstylist after they witnessed the squalor in her La Habra home, but they inspected the home and determined the children were not in any immediate danger.
Listen to the full interview below and sound off in the comment section, where should Octo-Mom and her children live?