Octo-Mom's House In Squalor: See The Disturbing Photos!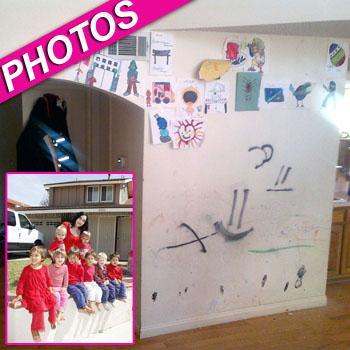 By Amber Goodhand - RadarOnline.com News Editor
Nadya "Octo-Mom" Suleman clearly isn't spending her money on a housekeeper.
The mother of 14 is under public scrutiny again, this time for the living conditions in which she houses her children, and RadarOnline.com has the disturbing photos.
The photos are a horrific display of graffiti covered walls, and the house appears filthy and is in complete disarray.
One of the bedrooms has "do not enter" spray painted on the door and a clear dent from where the 36-year-old mother props a chair under the handle to keep the door shut.
Article continues below advertisement
Octo-Mom's hairstylist reportedly called Orange County's Children and Family Services this week after witnessing the squalor in her La Habra, Calif. home first hand.
Authorities and service workers inspected the home for more than an hour and determined the children were not in any immediate danger.
Earlier this month Octo-Mom appeared on the TODAY show to plead her case for getting food stamps and $2,000 per month in government assistance saying, "Hundreds of people, random people, call social services on a daily basis, and it's sick and sad and to me.
"It's unbelievably fascinating in regard to humanity, how many people are foaming at the mouth for my children to be taken away from me. The saddest part is 15 years from now, when they're 18 and legal and in college, people will still be foaming at their mouth for them to be taken."
Do you think Octo-Mom's children should be living in those conditions? Sound off below…
RELATED STORIES: