Octo-Mom Calls Her Kids 'Eight Pieces Of Poop'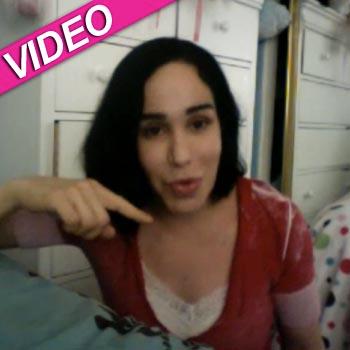 Article continues below advertisement
The 36-year-old goes into great detail about the conception of her eight children saying she used to pray, "Please God, don't let there be eight!"
During the video Nadya says she'd love to show her children on camera, but she's not supposed to because she says, "I want to protect them and at the same time I'm not allowed to really for this, and I got in trouble a little bit showing the eight in the beginning."
Skip to about the 19:40 mark where Octo-Mom says, "Is this easy? God no, it's not easy at all! I'm not going to be trying to don any façade and say 'Oh yeah, life is a piece of cake.' It's not. It's a piece of poop…eight pieces of poop, all day long. But the rewards outweigh anything negative."
Nadya makes one final plea to the viewers: "Your opinion of me and my family, it's none of my business, so lets keep it that way please — for the benefit of my children. That's all I ask."