Octo-Mom On Financial Burden: 'I'm The One Who Created This'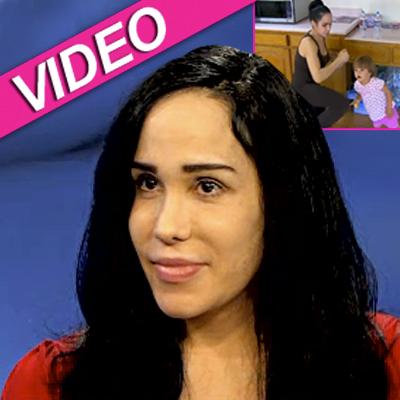 Despite her home being in foreclosure, Nadya "Octo-Mom" Suleman tells Dr. Drew she wants to remain independent in taking care of her 14 children and plans to move her family into a new home.
The 36-year-old mother appeared on Dr. Drew's HLN talk show Tuesday night and you can watch it here on RadarOnline.com.
"I'm very receptive to help...but still at the same time, I don't want to be a burden to anybody," she said. "I'm the one who created this, inadvertently."
Article continues below advertisement
Asked about her current situation, Nadya told Dr. Drew she's been working as a fitness trainer for the past year, but has been unable to meet her house payments.
Nadya said she's "hopeful her house will sell" and isn't looking to "make anything off of it" when it does.
"The goal…will be to move or lease a home," she said.
Despite her huge family, Nadya -- whose 14 children all came as a result of in-vitro fertilization -- said she's apt in meeting all of the attachment needs of her children.
"There's always the unique differences in mothers and families…I've learned so much through my children and how to parent," she explained. "And I had the experience of being, unfortunately, being a permissive and diligent parent with my older ones.
Nadya 'Octo-Mom' Suleman Tells Dr. Drew: 'We Are Broke'
"I've seen how that can inadvertently handicap a child -- and by spoiling a child, it can destroy them, really."