Nadya 'Octo-Mom' Suleman Tells Dr. Drew: 'We Are Broke'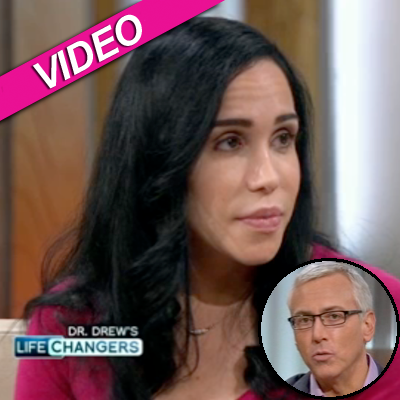 Nadya "Octo-Mom" Suleman, appearing on Dr. Drew's Lifechangers Wednesday, said her financial problems have gotten so bad, she can't afford to make small household repairs, having to bathe her 14 children in the kitchen sink.
"I'm in a situation now where we are legally broke," the mother-of-14, 36, told Dr. Drew. "Living check to check. Every single thing I do … is just me surviving and trying to provide for my family.
Article continues below advertisement
"Right now, I'm having a bit of issues with the faucet, so I'm kind of bathing them now in the kitchen sink."
Watch the video on RadarOnline.com
After hearing her sob story, Dr. Drew gave the La Habra, California native -- whose 14 children all came as a result of in-vitro fertilization -- a special gift in hopes of putting things back on track: a full year of free cleaning services from The Maids, child care services from Au Pair Care and enrollment in a 6-month online course to get certified in personal training.
"This is something we can offer you ... I've seen how you suffer," Dr. Drew told Suleman. "That's why we wanted to do this. We want to make this survivable -- your survival, your kids' survival is in doubt for me, especially the way you're going -- especially your survival."
Suleman, whose octuplets turn 3-years-old in January, replied, "Thank you very much."
For more on Dr. Drew's Lifechangers, check out lctv.com.