Exclusive
Nancy Kerrigan Vs Tonya Harding: Is Skating's Biggest Feud To Be Played Out In The Ring?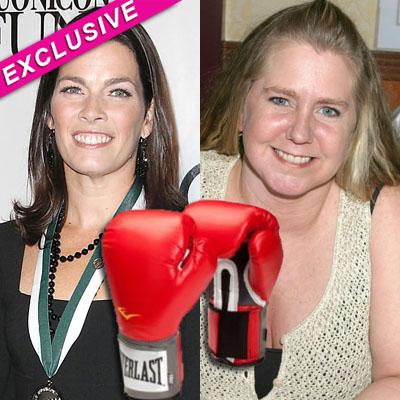 It was one of the greatest scandals in Olympic history and now Tonya Harding and Nancy Kerrigan are being offered big bucks to settle their grudge -- not on the ice, but in the ring!
It has been almost 20 years since Harding's ex-husband and bodyguard hired a man to attack skating rival Kerrigan, smashing her leg with a baton in an attempt to prevent her skating in the 1994 Olympics.
The attack failed to cause long-term damage and Kerrigan went on to win an Olympic silver medal, while Harding was charged with covering up the assault.
Article continues below advertisement
Now one of the United Kingdom's richest men is offering both ladies $100,000 each to duke out their differences in the ring.
Digital media entrepreneur, FilmOn's Alki David, has announced he wants the women to face off November 5 in three one-minute rounds.
Only problem is Kerrigan has yet to agree to the fight, so David has made a public appeal for the skater to join in the fight offering to give the money to charity if she would prefer.
"David is giving Kerrigan the chance to return to stardom in a fun three one-minute round match as part of his great celebrity fight night card," David's announcement said.
However, Kerrigan may be a little bit apprehensive about facing off against her skating nemesis -- not just because of their past -- but because Harding has had a short-lived professional boxing career.
Since the 1994 attack, Kerrigan has tried to stay away from the public eye and stopped ice skating at a professional level.
Article continues below advertisement
Tragedy once again struck Kerrigan last year when her father died after her brother attacked him during an argument.
In May, a jury found Mark Kerrigan not guilty of manslaughter but convicted him of assault and battery after his defense successfully argued 70-year-old David Kerrigan's heart disease caused his death.
RELATED STORIES:
Nancy Kerrigan & Other Skating Superstars Caught Up In Alleged Charity Fraud