Exclusive
Octo-Mom Bails On First Show, Blames Technical Difficulties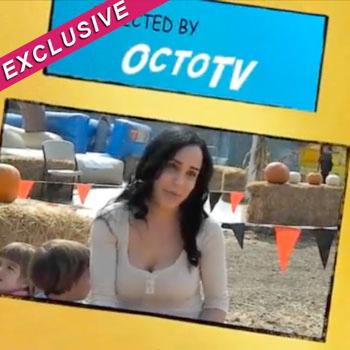 By Debbie Emery - Radar Reporter
Nadya 'Octo-Mom' Suleman's new web series has already met a stumbling block and it's not even aired yet!
The mother of 14 was scheduled to launch her show OctoTV on Sunday, but an insider exclusively revealed to RadarOnline.com that it got waylaid because of technical problems.
"Her computer broke and it is getting fixed so we had to push it," Suleman's spokesperson told RadarOnline.com.
Article continues below advertisement
As RadarOnline.com previously reported, Octo-Mom plans to broadcast the show every week to offer tips that are essential to every mom.
"I will be hitting on parenting, fitness, diet, nutrition, shopping on a budget and all those crazy rumors...LIVE from my home!" said Nadya.
The premiere of the series has now been pushed back to Christmas Day.
Having fallen behind on the payments for her $525,000 Southern California home, the latest career crisis will surely add to Suleman's from high-profile financial problems.