Octo-Mom Changes Stance On Porn, Says She'd Do It If The Price Is Right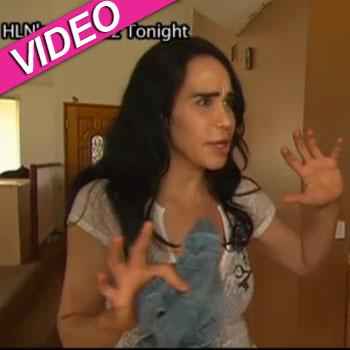 Nadya "Octo-Mom" Suleman has changed her mind on doing a porno movie -- if the price is right.
The La Habra, California native, who's struggling to make ends meet for her 14 children, has long sworn she'd never have sex on film, but in a new interview with HLN's Showbiz Tonight, she admits she'd break that promise if it provided her with serious financial security.
"You know if the opportunity comes up I'll be the first to admit, I'm gonna eat my words!" Octo-Mom said. "Because all that matters is that I can take care of my family."
Article continues below advertisement
"What about the porn?" HLN's Showbiz Tonight's Nischelle Turner asked her.
Octo-Mom responded, "If it's a job, and it's a well-paying job, and it's gonna allow me to get out of here and move my kids into a very safe, huge home that they deserve … I'm gonna do it."
Acknowledging her topless spread for a UK magazine in early-April, Suleman said she'd never do full-on porn, even if the offer was $100 million.
"I won't touch other human flesh,'' Suleman said. "The only flesh I'm touching is my own. I would never, never accept anything. I will not lose my grip of my deeply-indoctrinated morals and values.
"Every choice we parents make is going to significantly affect our children for the rest of our lives," she said. "It's going to haunt them forever -- I have to be the ultimate positive role model.''
Suleman gained the world's attention January 26, 2009 when she gave birth to the octuplets at a Southern California hospital. All 14 children of her kids have come as a result of in-vitro fertilization.