Exclusive
Octo-Mom's Pal: What Kind Of Life Can These Children Have With Her As A Mother?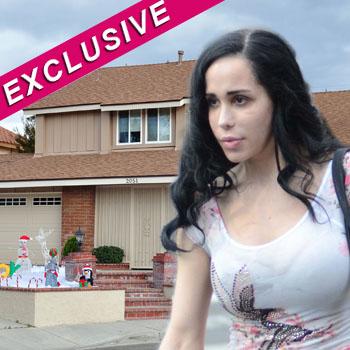 Article continues below advertisement
"Nadya Suleman is broke and she has her head in the clouds, she is absolutely clueless," Haddadin tells RadarOnline.com exclusively. "I spoke to her dad recently and told him I would take the deed to the bank and I would work with them to save the property and then Nadya could lease the house from me. Her dad never got back to me though. I spoke to Nadya's manager also and asked where is Nadya going to live? I was told she might be renting a house somewhere else which is crazy, who would rent a house to her with 14 children? Look at the destruction that has been caused at the house Nadya is living in now."
However, Amir's real concern is for Nadya's 14 children. "I feel so sorry for those children and I worry about them. What kind of life are they living now? Going to the bathroom in the backyard of the house in portable toilets -- they aren't animals. Does Nadya realize that? Truly, what kind of life can these children have with her as a mother?" He asks.
The 36-year-old single mother's home, which has been in constant financial trouble since she moved in, has one bedroom with the words "do not enter" spray painted on the door and there is a visible dent where a chair has been propped to keep the door closed. Suleman said she receives about 5k a month in public assistance but is expecting that to end very soon.