Exclusive
EXCLUSIVE: Octo-Mom Nadya Suleman Going On Welfare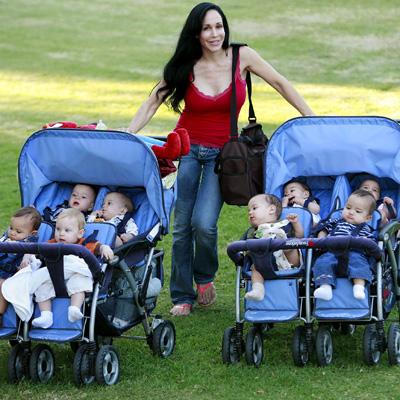 With 14 children and no income, Octo-Mom is going on welfare.
Since giving birth to octuplets, Nadya Suleman has supported herself by selling access to her life, but a TV deal that she hoped would turn into a reality series fizzled.
That failure was a huge blow to Suleman's future and has left her in financial ruins, RadarOnline.com is reporting exclusively.
"Nadya is running out of money very quickly," a source close to the infamous mom told RadarOnline.com. "She's still hoping to pull off a deal that will pay her a fortune but at this point it just doesn't seem possible."
Article continues below advertisement
Suleman was an infamous headline-generating national curiosity after giving birth to octuplets on January 29, 2009.
RadarOnline.com led the way in covering her chaotic life, documenting her struggle to raise 14 children, her brutal fights with her mother and the notoriety that led attorney Gloria Allred to head the quest for a guardian to be appointed for her children.
Now, however, the press attention has diminished and TV networks aren't buying a reality series featuring Suleman.
A potential deal with the Game Show Network fell through, as RadarOnline.com was first to report.
"She was hoping for merchandizing deals, but those never came through," the source said. "And she's written a book but no publisher wants it."
Meanwhile, Suleman has fallen behind on her mortgage payments again.
In April, the man holding her mortgage threatened to evict her when she fell behind.
That situation was resolved and as RadarOnline.com recently reported exclusively title to the house where Nadya lives was transferred to a company owned by her lawyer, Jeff Czech. (Nadya's father bought the house.)
Article continues below advertisement
"Nadya has nannies and huge expenses raising 14 children," the source said. "She needs a lot of money just to keep up with the basics. And now the income has dried up and she didn't make enough in the past year and a half to live off of it.
"That money is gone and now she's facing desperate times.
"Nadya will never come out publicly and say she's going on welfare but everyone close to her and familiar with her situation knows that it's going to happen very, very soon. She needs the money. She has no choice at this point.
"And she's been on public assistance before."
EXCLUSIVE INTERVIEW: Octo-Mom's Mom Says My Daughter Is Insane
Suleman previously stated one of her goals was to get off public assistance and she managed that during the height of her notoriety.
She stated many times that she hoped to go back to school, get a Master's degree and work in the counseling field.
That hasn't happened - and even if it did, as the source points out, there's no way she could earn nearly enough to cover her enormous expenses.
Article continues below advertisement
"Nadya's parents have done a lot to help her despite their difficult relationship," the source added.
"But they aren't rich and they're struggling too. Her father bought the house but he can't support her.
"She's going on welfare and it's going to be very soon.
"There's just no choice. She's running out of money and those kids need to eat."
RELATED STORIES:
EXCLUSIVE: Octo-Mom Defends Fertility Doctor