Exclusive
EXCLUSIVE: Octo-Mom - I've Written A Book!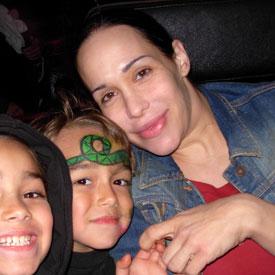 Nadya Suleman has been called plenty of things over the years -- just not "author".
Octo-Mom has finished the autobiography of her less-than-typical life as the mother-of-14, including octuplets born in 2009, and the worldwide media frenzy that surrounded her since their birth.
There is only one problem: no one wants to publish the book.
Nadya has been shopping her book around to publishers, but no one has offered her a publication deal that she wants to go with," a source close to Octo-Mom exclusively told RadarOnline.com.
Article continues below advertisement
"She has been talking with publishers, but is not nearing a deal.
"She is holding out because she is not being offered a lucrative deal, and she feel like her personal story is worth a lot more than anyone is even interested in paying."
In 2009, Nadya's lawyer Jeff Czech confirmed that Wendy Leigh would be ghost writing the book, but RadarOnline.com can exclusively reveal that Leigh, who ghost wrote My Life with Madonna, Christopher Ciccone's book about his famous sister, quit the job.
"She agreed to write the book, but once she found out the pay and conditions Nadya was going to insist on, she quit working with her," the source added.
Leigh declined to comment on her relationship with Nadya when reached by RadarOnline.com.
Nadya has written the entire book by herself, but for those wanting to know, she doesn't reveal the identity of the man she says was the sperm donor for all 14 of her kids.
Article continues below advertisement
She is also keeping the title of the book secret: "She thinks it is clever and will make people want to buy the book."
Publishers are curious about the exclusive details Nadya can provide about her lifestyle and issues with raising 14 children without a steady stream of income that haven't been public knowledge.
EXCLUSIVE: Jon Gosselin Writing A Book Too
And keeping with the family infighting, RadarOnline.com has learned that Nadya's father Ed Doud is writing his own book, chronicling her childhood.