Exclusive
EXCLUSIVE: Jon Gosselin -- I'm Writing A Book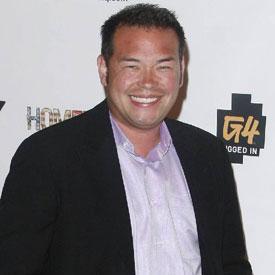 Jon Gosselin -- a wordsmith?
It's true. After his ex-wife Kate penned a series of best-selling books, the former reality television star is attempting to strike gold with an upcoming tome A Slice Of Life: Jon Gosselin's Story.
Jon and his life-coach, Sylvia Lafair, are currently writing the new book, RadarOnline.com has exclusively learned.
It will tell Jon's journey from being a relative unknown to reality TV patriarch and regular tabloid fodder.
Article continues below advertisement
Co-author Lafair, who takes Jon on soul searching missions into the mountains of Pennsylvania for $10,000, tells RadarOnline.com: "The book is about having eight kids all at once when he was under the age of 30."
She says, "It includes some of the lessons that Jon has been learning with helpful hints on how he is working to reframe his relationship with his family including his two brothers and his mother.
"It also explores how the death of his father affected him."
Jon is working hard to re-invent himself. As RadarOnline.com revealed, he got an enormous dragon tattooed on his back to symbolize his rebirth.
Sylvia has been working as Jon's life coach for more than one year, but it wasn't until five months ago, that he got serious about the quest.
EXCLUSIVE: Hailey Glassman Laughs At Jon's New Tattoo
He told her, "I'm really ready to do some work."
Article continues below advertisement
Sylvia says she suggested the reality television father join her six-month leadership program high above Pennsylvania.
"It provides life-changing results," she says.
"Jon called because his life was not working... I think sometimes people have to get to their worst place to find out what they need in order to climb out of it.
"This past year has been like that for Jon."
But, now Sylvia says, Jon is considered a work in progress.
"Watching him is like a vaccination that's taking effect," she tells us.
"I hear it in his voice... He has a more thoughtful way of stopping and asking questions."
He especially wants to do this for his children, Jon's mentor says.
"He wants to be the most effective father," Sylvia says.
"He wants to find a way to speak for his generation in terms of getting married, divorced and raising kids and finding a better way to live his life."