Octo-Mom House On The Auction Block Monday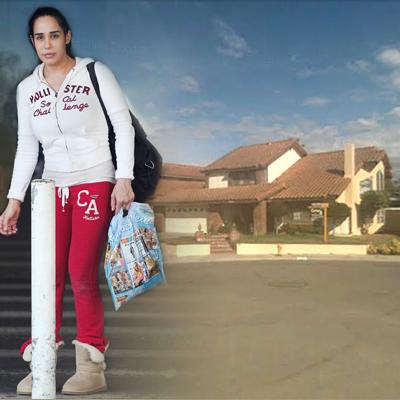 The La Habra, California house Nadya "Octo-Mom" Suleman has been raising her 14 children in the past three years is going on the auction block.
Starting at 9 am PT Monday, officials at Orange City Hall will take bids on the four-bedroom, three-bathroom home, which Suleman has not made any payments on in the past year. The home is expected to sell in the $400,000 range.
The OC businessman who sold Suleman's father the home on Madonna Lane in a wraparound mortgage says he has not seen a payment in more than a year. (She's live in the home since 2009.)
Article continues below advertisement
Last week, Suleman field for bankruptcy, claiming she had more than $1 million in debts against $50,000 in assets in the court papers.
"I have had to make some very difficult decisions this year, and filing Chapter 7 was one of them," Suleman told the Orange County Register in a statement. "But I have to do what is best for my children, and I need a fresh start."
Suleman's financial issues have heated up in the past month, as some were outraged she's spending money on gym memberships and Brazilian blowouts while receiving $2,000 a month in public assistance.
Despite former statements to the contrary, Suleman (who doesn't have a regular job) changed her mind about appearing in an adult-oriented project, recently shooting a masturbation video in the porn capital of the world, Southern California's San Fernando Valley.
Suleman gained the world's attention January 26, 2009 when she gave birth to the octuplets at a Southern California hospital. All 14 children of her kids have come as a result of in-vitro fertilization.