Octo-Mom: Porn Video Helped Me Face My Fears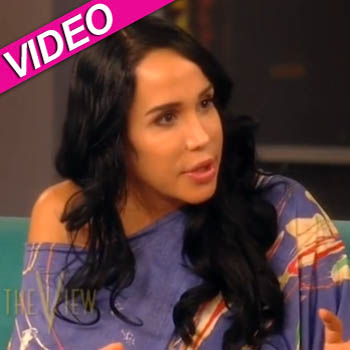 Nadya "Octo-Mom" Suleman says she didn't make a porn film for the money -- but to overcome her fears of intimacy and sexuality.
The mother-of-14, appearing on The View Thursday, said, "If I wanted to do it for me, I would have done it a few years ago."
Suleman said she preferred appearing solo in the erotic video because "I feel it's safer to do that than with another person.
"When I did it, I faced my own fear without avoiding it. It is sexy for me," she said, adding she "never even touched" herself prior to recording what was described as a Playboy style self-pleasure video.
Article continues below advertisement
"Growing up," she said, "I learned not to touch myself."
Asked if she's still dealing with Child Protective Service investigations, she said everything's OK on that front.
"I'm an open book, I'm transparent with them."
Suleman gained the world's attention on January 26, 2009 when she gave birth to octuplets at a Southern California hospital. All 14 of her kids have come as a result of in-vitro fertilization.