On No She Didn't! Joan Rivers Skewers Octo-Mom & Christina Aguilera On Fallon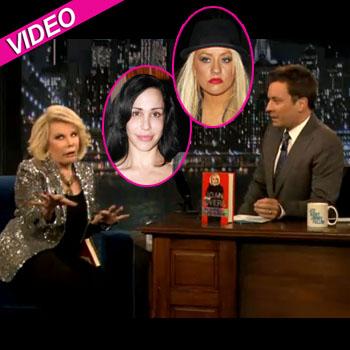 WARNING: Story Contains Crude Content
Joan Rivers brought out her sharpest swords Monday on Late Night with Jimmy Fallon, razzing Octo-Mom Nadya Suleman and Christina Aguilera with her usual raspy-throated zest.
"I hate Octo-Mom: Her vagina is like the log ride at Disneyland," Joan said. "It opens up and a thousand wet, screaming kids come flowing out!" the celebrity-bashin' 79-year-old said.
Article continues below advertisement
And if you thought that was harsh...
"Christina Aguilera, we mentioned that she was fat -- I think the joke was, 'Cows tip her,'" Joan joked. "So, I'm at Spago's with Melissa, we're eating dinner and fatso is along the way, she comes lumbering over to my table with that no-neck look, she comes over and says, 'You gonna finish that?'"
Watch the video on RadarOnline.com
Joan didn't even spare herself from the razzing: Asked about her her new book -- titled I Hate Everyone...Starting With Me -- Joan joked, "I should have called it 50 Shades Of Grey -- or, after my legs, 48 shades of blue!"