Get Out Your Dollar Bills! Octo-Mom Hits The Pole As She Makes Her Stripping Debut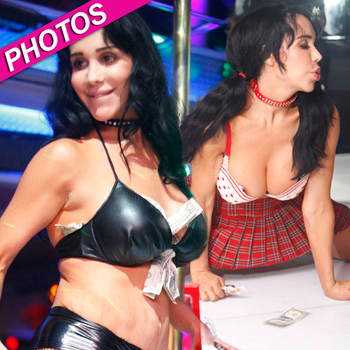 Article continues below advertisement
Octomom looked uncomfortable and self-conscious as she worked the pole to the amusement and bemusement of the 400-strong audience, and one fellow stripper gave her act a very poor review.
"She's really stiff," said a girl who identified herself only as Jennifer, reported the MiamiHerald.com. "Oh my God, she can't dance. But it's good for the rest of us girls because she made it a busy Friday night. We're going to get extra tips."
Suleman apperared to have problems ditching her clothes gracefully and at one point even had to get helped out of her gloves.
In her second of the two 12-minute sets, the 37-year-old single mom dressed as a naughty schoolgirl as she crawled across the stage in white, knee high socks, a plaid skirt and with her hair pulled back in girly pig-tails.
The rookie sex performer, who recently made a solo porn film called Octo-mom: Uncovered, was paid $5,000 for her one-night appearance, plus tips and the profit from autographed photos that she sold on stage for $10 each.
Article continues below advertisement
Stripping is just the latest in a string of bizarre business ventures that Suleman has embarked on in a desperate attempt to dig herself out of debt. Along with the X-rated movie, she has tried her hand at celebrity boxing, posed topless and resorted to using food stamps to feed her 14 kids.
As previously reported, cash-strapped Suleman's La Habra, California home was sold at an auction recently because she stopped making house payments.