Octo-Mom's Stripping Gig Hits Legal Road Block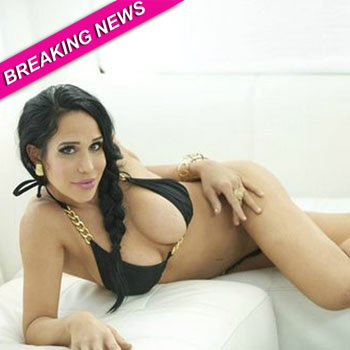 By Amber Goodhand - Radar News Editor
Nadya "Octo-Mom" Suleman is doing whatever she can to dig herself out of debt and support her 14 children, and with a porn video already under her belt, stripping is next — or is it?
The 36-year-old is supposed to make her debut at a South Florida strip club this week, but RadarOnline.com has learned there's a battle brewing between two competing adult venues after Octo-Mom pulled the plug on her initial contract, and a local judge is left to sort it out.
Article continues below advertisement
Octo-Mom signed a contract with T's Lounge last month in which she agreed to perform eight shows this week, but WPTV.com reports it turned sour after a nasty text message exchange between the club and Octo-Mom's porn-star-turned-manager, Gina Rodriguez.
"Dance gig is canceled after Michelle the manager or employee of the club made comments about Nadya saying she is crazy etc. and Nadya is now not doing that club ever," it read.
Gina was referring to a local TV spot in which a bartender from T's made a comment about Octo-Mom saying, "She must be a little crazy. Normal people don't have that many children."
T's owner Gary Odle immediately apologized saying, "There was no malicious intent. The name of the club is T's, so we like to tease."
But it didn't help. Despite having a contract, it seems Gina went ahead and booked her client to make her stripping debut this Friday at a rival club in Broward County called The Playhouse South — prompting Gary to file a lawsuit.
Article continues below advertisement
"I was supposed to be the first, and no one else around here was supposed to get her," Gary told the news site, noting that the contract included a provision that Octo-Mom was not to dance anywhere else within 50 miles of his club, 90 days before or after her debut at his club.
Gina has claimed the contract wasn't valid because no deposit money promised was ever exchanged, but Gary claims that's not true.
"There was never a question about the down payment," he said. "They've got our charge card on file."
According to Gary's lawsuit with the Palm Beach County Circuit Court, Gina's text to him was sent 34 days before Octo-Mom's scheduled appearance, and their contract had a 35-day cancellation allowance.
"As there can only be one '1st Feature Dance Performance' it would be impractical, if not impossible, to establish damages" if Octo-Mom dances elsewhere the lawsuit states, asking the court for compensation for the "extraordinary costs" of replacing her.