Octo-Mom Tries To Fight Her Way Out Of Debt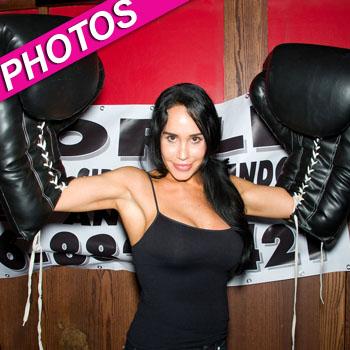 She's 'performed' in front of a camera and now Octo-Mom is stepping into the boxing ring to help feed her 14 children.
Cash-strapped Nadya Suleman is taking part in a Celebrity Pillow Fight in Broomall, Pennsylvania this weekend. Looking like she meant business the 36-year-old donned a pair of boxing gloves at the promotional press conference on Friday.
The working mom will be fighting a local celebrity – Shila who co-hosts The Chio Morning Show in Philadelphia. Lindsay Lohan's father Michael will referee.
Article continues below advertisement
But Octo-Mom isn't too concerned by her opponent. She told The Huffington Post: "I'm not sure who the girl is I'm pillow-fighting with, but I heard she has never been in the ring before. I've done this several times, and I am undefeated and will remain undefeated!"
Sassy Shila is no wimp either. She confronted Octo-Mom on her morning show on Friday and even accused Suleman of having a "$5,000-worth" boob job. And even though the single mom denied having breast implants – claiming she was a DD at 15 – the radio host wouldn't let the issue drop.
She said: "I come from a family of physicians. I know a breast surgery when I see one…and that's breast surgery. But why didn't you just give that to your kids?"
Shila also hit out at Octo-Mom for getting involved in porn. She said: "If you're as educated as you say you are, you can do a lot of other things than showing your body."
The $20 pillow fight ticket fee may go some way to getting Octo-Mom out of her financial trouble. Earlier this year she declared bankruptcy and she owes more than $475,000 on her house, which is going into foreclosure.
Article continues below advertisement