American Stripper! Jason Biggs' Hilarious Magic Mike Audition Tape Spoof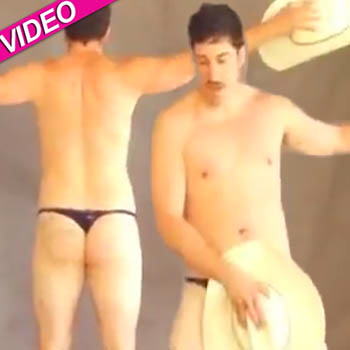 Jason Biggs is quite the jokester, but how are his stripping skills?
The American Pie actor may not have landed a spot in the Channing Tatum and Matthew McConaughey stripper move Magic Mike, but he did film an audition spoof, where he shows off his dance moves and most of his body – and RadarOnline.com has the hilarious video.
Wearing a cowboy hat, blue jeans and a plaid shirt, the 34-year-old recites the ridiculous lines off his script before it is time to strip.
Article continues below advertisement
With Ginuwine's hit song My Pony playing in the background, Biggs leaves very little to the imagination, striping down into his g-string skivvies and grinding to the tunes.
Do you think Jason Biggs has the right moves to play a stripper? Sound off below.