Octo-Mom Banned From Celebrity Boxing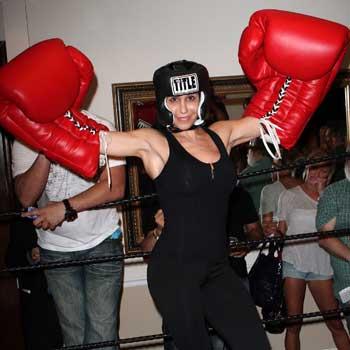 We won't be seeing Octo-Mom in the boxing ring anymore.
Celebrity Boxing CEO Damon Feldman has banned Nadya Suleman from his bouts after she allegedly broke an opponent's hand in a pillow fight in Philadelphia and then failing to show up for another fight in Florida.
The ban means Nadya may have to continue with porn and stripping to put food on the table for her 14 kids.
The infamous baby machine has made "well over six figures in Celebrity Boxing," claims CEO Feldman in announcing his decision to ban her from future fights.
Article continues below advertisement
He said Nadya is banned for "breaking a local female DJ Shilas hand in a pillow fight with no explanation or apology" and for failing to show for a match in Florida.
Feldman also claims that his company has been "losing deals because she has been associated with us."
She's not even welcome to sit in the audience for fights, Damon said.
As RadarOnline.com previously reported, Octo is so desperate for money that she has set up a website begging for cash to help pay for a new home.