Exclusive
Amber Portwood's 'Very Close Friendship' With Inmate Named Sugarfoot, Protecting Her In Jail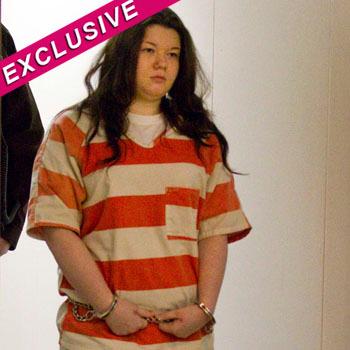 Amber Portwood has her very own 'protector' in jail, RadarOnline.com exclusively reports.
The Teen Mom star has struck up a "very close friendship" with a fellow inmate nicknamed Sugarfoot in the Indiana jail where she is currently being held for a December 2011 drug arrest.
And Sugarfoot is so dedicated to the 22-year-old reality TV train wreck, that the prison heavy even has Amber's initials tattooed on her neck!
Article continues below advertisement
"Amber has made few friends at Indiana's Rockville Correctional Facility, but Sugarfoot certainly has her back," a source reveals.
"Everywhere Amber goes, Sugarfoot is by her side – she's what they call in prison, a protector, someone who will fight your battles and keep you safe.
"They are very fond of one another. Amber even asked to move cells to be closer to her new pal.
"And as a sign of Sugarfoot's true dedication to her new friend, she has had Amber's initials tattooed on her neck.
"They have a lot in common – both have young kids and also suffered with substance abuse problems.
"The pair appear to be a good influence on one another, which can only help Amber get her life back on track," the source concludes.
Back in June, a judge re-imposed a 5-year prison sentence on Amber after she chose to give up a court-ordered drug rehabilitation program.
In an interview with ABC News, Portwood explained why she decided to do time instead of head to rehab.
Article continues below advertisement
"In my situation, I felt in the program there were a lot of eyes on me. And it was very uncomfortable. I was not using my anti-psych medication, even," she shared.
"I was very depressed, all alone, all bitter at everyone. I felt like that wasn't the life I wanted to live, I felt like I'd rather do my time and get it over with."
However, Portwood didn't blame the program for her reason for dropping out.
"It wasn't just the program, it was the fact of being alone. It was personal," the mom to Leah, 3, revealed.
"Being alone, feeling like you're hopeless, you have nothing, feeling like an addict, and you're never going to change, even though in your mind you're working so hard. But every time you get to court it's not good enough."
RELATED STORIES:
Mike Myers To Become First Time Dad With New Wife