Exclusive
Octo-Mom Doesn't Have Substance Abuse Addiction, But Does Have Major Psychological Issues, Says Source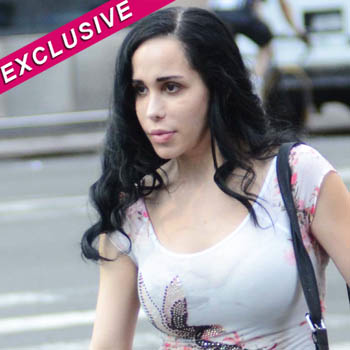 By Jen Heger - Radar Assistant Managing Editor
Nadya "Octo-Mom" Suleman entered a rehab facility recently for an alleged addiction to Xanax, but a source close to the mother-of-fourteen tells RadarOnline.com exclusively that she doesn't have a substance abuse addiction but does suffer from major psychological issues.
"Nadya doesn't fit the stereotype of someone suffering from substance abuse addiction because she doesn't have a family history of it and she has never had any issues with prescription drugs, alcohol or street drugs," a source close to the situation tells RadarOnline.com exclusively. "Nadya absolutely does have major psychological issues though that have been untreated for years and she should be getting help for those very complicated problems.
Article continues below advertisement
"This trip to rehab is probably just another ploy for Nadya to get publicity and money from media outlets that pay her for pictures and stories. Nadya leads a very sad and lonely life. You have to remember, she is surrounded by children all day every day and has very little interaction with adults."
As previously reported, Octo-Mom's father Ed Doud was worried about her drinking habits and in a voicemail message he states he doesn't think she should be driving. Sent on August 1, 2012, Ed left a message for Gina B., the woman who was helping watch Nadya's eight youngest children at the time but is no longer with the family, saying that he's worried about his daughter.
Article continues below advertisement
"I could pick up the kids tomorrow, I mean the big kids. I don't know what to say. I have no idea what to say," he says.
"She cannot drive the kids and drive herself and drive back here."
Despite Octo-Mom's dad's concerns about his daughter's drinking, the source says: "Does she drink? Yes, she has 14 kids for heaven's sake! She isn't an alcoholic though. It's just not who she is. One of Nadya's main issues is her ongoing quest to be in the limelight. Nadya publicly says she loathes the media glare and doesn't want to be a celebrity, yet her actions go against what she says. Nadya continues to go on talk shows and do television and print interviews. If she just got honest with herself most of her problems would probably be easier for her to deal with."