Exclusive
Octo-Mom's Former Nanny Says Restraining Order Is Unfounded: 'Nadya Is A Sick Woman'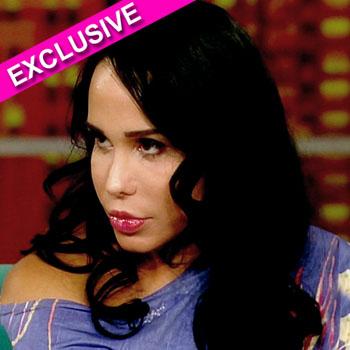 By Amber Goodhand - Radar News Editor
Nadya "Octo-Mom" Suleman's 11-year-old son Elijah Solomon slapped their former volunteer caregiver with a temporary restraining order on Friday, but Gina Bryson exclusively tells RadarOnline.com the TRO was unfounded and it was all a ploy for money and publicity.
"Nadya is a sick woman that has her definitions confused as she has claimed that I was obsessed with her children; the correct verbiage is love, I do love them and will continue to try to protect them against their mother's neglect, abuse and OBSESSION to use them to make a profit from," Gina said.
Article continues below advertisement
"I was surprised it wasn't reported on Friday morning. I guess they waited for today since social media traffic is higher. I am also shocked that the people that filed for Eli are willing to blatantly lie to court officers as there is ZERO proof that I have ever harassed any of Nadya's children."
According to reports, the TRO documents state that Gina has been harassing Elijah with phone calls and text messages.
"It is one thing to make up lies to sell them to a media outlet, but perjuriously filing a restraining order can result in criminal persecution and jail time," Gina told RadarOnline.com.
"When I was being served, the Sheriff's Deputy expressed to me that I was the first person he had served that seemed happy to receive a Temporary Restraining Order from him. I told him I had some faith in the justice system and the truth on my side."
Article continues below advertisement
And as for being fired by Nadya earlier this summer as a caregiver, Gina said she was never paid for her childcare services — she simply volunteered — so reports that she was fired are false.
"As far as being fired, of course another lie. I have never been paid even though I volunteered many thousands of hours taking care of the children over the last three years," Gina said.
"It needs to be said that I am a 'Mandated Reporter,' which requires me by law to report ANY suspected abuse, which I have multiple times a couple months ago."
As RadarOnline.com previously reported, the La Habra Police investigated child abuse allegations against Nadya earlier this summer after two former nannies claimed to have witnessed child neglect and sexual abuse in the home.
Nadya was not charged and the case was dropped because of "insufficient evidence," the Orange County District Attorney told RadarOnline.com.
Nadya is currently at the Chapman House Rehab Center where she's being treated for an addiction to Xanax.