What Was She Thinking? Madonna Waves Gun In Denver Concert, Just Months After 'Dark Knight' Massacre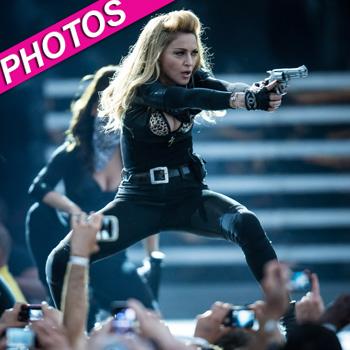 Madonna loves to shock but her concert in Denver Thursday night took that to a whole new level.
Using a fake gun to shoot a masked gunman and climbing up a wall splattered with blood, Madonna's Gang Bang, which includes the lyrics "shot my lover in the head."
The scene was far too familiar to what happened in a theater in nearby Aurora July 20 during a midnight premiere showing of The Dark Knight. A masked gunman opened fire, killing 12 and injuring another 58. James Holmes has been charged in the horrendous crime.
Article continues below advertisement
"We're dancing and all of a sudden people started realizing what the song was," concert-goer Aaron Fransua, 25, told AP "We all just stood there. Everybody who was around me all had shock on their face. I heard a lot of 'wows,'" Fransua said.
Mile High Sports Radio Denver personality Peter Burns, who had a good friend die in the massacre, said the people around him began murmuring when the song came on.
"You could see people kinda looking at each other," Burns said. "I heard the word 'Colorado,' you know, 'Aurora,' 'shooting.' You could hear people talking about it and it was little bit unsettling. I saw two or three people get up and grab their stuff and actually leave their seats."
's mouthpiece, Liz Rosenberg, said there was no way to eliminate the scene from the show.
"It's like taking out the third act of Hamlet," she said.