It's Handy To Have A Young Boyfriend! Madonna Hitches A Ride Around Florence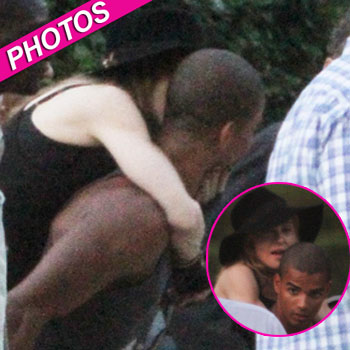 It looks like the Material Girl needed a little help taking in the sights on Saturday in Italy.
The 53-year-old pop star enjoyed touring the city of Florence while being carried through the streets on her boyfriend Brahim Zaibat's back where they checked out the Uffizi gallery with Madonna's son Rocco — and RadarOnline.com has the photos.
The group were given a private two hour tour of famous works by Leonardo Da Vinci, Michelangelo, Giotto and Titian as well as Sandro Botticelli's masterpiece the Birth of Venus.
Article continues below advertisement
Museum chief Cristina Acidini told MailOnline, "Madonna was very interested in all the works in the museum...There is a fee for this but it's something we don't really discuss but the price does include all the services of the staff who have to stay behind and who were able to offer commentary on the exhibits. She was particularly taken by Botticelli's Birth of Venus and spent several minutes in front of the work asking questions and wanting to know all about it. I got the impression she was very interested to hear all about pagan and sacred mythology and she wanted to know all about the philosophy of the works that we have in the Uffizi."
The pair were seen strolling around after her latest show of the 2012 MDNA tour which has caused some controversy. In Istanbul, Turkey, Madonna was the subject of harsh criticism when she exposed her right breast on stage to a crowd of 55,000 and then just a few days later she pulled her pants down showing her thong to fans.
In addition to her raunchy behavior, it's also been noted that Madge has been demanding about what she needs for herself and her 200 member entourage. Her outrageous list includes: 20 international phone lines, space for her own portable dryer and roses and lilies in all rooms with their stems cut at exactly six inches.