Exclusive
Kansas City Chiefs Murder-Suicide: Family Of Slain Girlfriend Is 'Still Trying To Make Sense Of What Happened'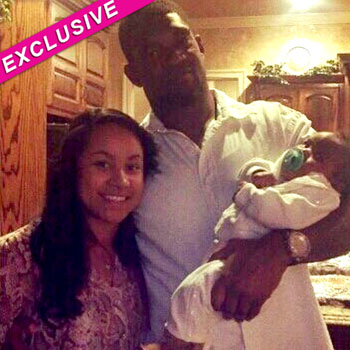 Article continues below advertisement
As previously reported, the 25-year-old football player shot and killed his 22-year-old girlfriend on Saturday morning after the pair got into a heated argument, then traveled five miles to the Chief's Arrowhead Stadium where he was met by general manager Scott Pioli and coach Romeo Crennel, and Belcher thanked them for all they'd done for him.
Having grown up in Austin, Texas, Kasandra met the NFL linebacker through her cousin, Whitney Golden Charles, the wife of Chiefs running back Jamaal Charles. She moved to Kansas City in 2010 to be with Belcher, reported the Kansas City Star. The couple is survived by their three-month-old daughter, Zoey, who is currently being looked after by Belcher's mother.
On Monday, Kasandra's family issued a statement pledging their love for their daughter and also offering their support to the other victims in the murder-suicide.
"On behalf of the Perkins Family, we appreciate the outpouring of love and concern for our Kasandra 'Kasi' Perkins. Our hearts are truly broken for Kasi was a beloved daughter, granddaughter, sister, mother, cousin and friend.…
"Please keep us in your hearts and prayers as well as the Belcher family for two lives were lost. Again we thank you for your support, our wish is for Kasi to be remembered for the love she shared with us all. Kasi will be truly missed!"
Article continues below advertisement
On the police report obtained by RadarOnline.com, Perkins' death has been ruled as a "non-negligent homicide." Police arrived at the couple's home on 5400 block of Crysler Avenue in Kansas City at 7:52 a.m. on Saturday, where the young mother was reportedly found on the floor of the bathroom.
Additional officers arrived at the Chiefs' Arrowhead Stadium in response to a reported disturbance from "an armed party" at 8:01 a.m.
In the parking lot of the practice facility at 1 Arrowhead Drive, Belcher encountered Chiefs General Manager Scott Pioli. Belcher stepped out of his Bentley with a gun pointed at his own head, police said.
"I did it," he said, according to police. "I killed her."
Belcher shot himself one time in the head, according to the report. He was then transported to an area hospital where he died from his injuries.
Article continues below advertisement
New details emerged Tuesday of what could have triggered the shocking chain of events, with a friend of Perkins telling The Star that the couple argued around 1 a.m. Saturday when Perkins returned home from having drinks with friends after the Trey Songz concert. Belcher was angry she had stayed out so late, the friend said.
Meanwhile, the night before, Belcher was reportedly with another woman and was so drunk he slept in his Bentley for several hours before being roused by police, according to the New York Post.
Belcher had dinner and drinks with Brittni Glass on Friday night. "I was with him that night, that's it," Glass told the Post. She says they are not in a romantic relationship, although neighbors described seeing his car in front of her place several times in the past few weeks.
When cops roused Belcher from his car nap early in the morning he went into Glass' home for about four hours, according to the Post. He left from there and went to the home he shared with Perkins.