Exclusive
Jovan Belcher's Slain Girlfriend Remembered In Memorial, Orphaned Daughter Guaranteed NFL Money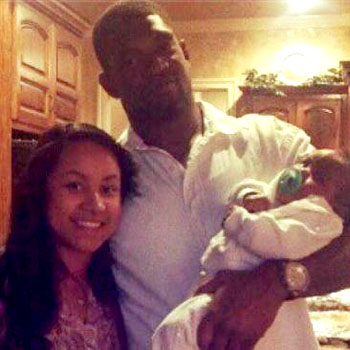 By Debbie Emery - Radar Reporter
Mourners gathered on Thursday to remember the girlfriend of Kansas City Chiefs player Jovan Belcher, who he shot and killed in a tragic murder-suicide last weekend.
The memorial was the first of two events for Kasandra Perkins, 22, and was held in Fort Worth, Texas near her mother's home, reported the Kansas City Star.
A second service will be held in Austin, where her father lives and where the young mom will be buried.
Article continues below advertisement
As RadarOnline.com previously reported, Belcher shot Perkins multiple times on Saturday morning after the pair got into a heated argument, then traveled five miles to the Chiefs' Arrowhead Stadium where he was met by general manager Scott Pioli and coach Romeo Crennel, where Belcher thanked them for all they'd done for him before shooting himself.
Perkins graduated from Anderson High School in 2009 in Austin. She was an instructor with Lone Star Dance Team and taught praise dance in her church, according to her obituary. She was a member of the Chiefs' women's organization and was involved in after-school programs and volunteer organizations.
On Wednesday, Kansas City Chiefs players, coaches and staff, including Pioli and club chairman Clark Hunt, attended a service for the deceased linebacker at the Landmark International Deliverance and Worship Center near Arrowhead Stadium.
The late couple leave behind their three-month-old daughter, Zoey, but while she will grow up never knowing her parents, fortunately her financial future and college education are guaranteed.
Article continues below advertisement
According to NFL.com's Ian Rapoport, she is the beneficiary of the collective bargaining agreement signed last year. Zoey's guardian or her estate will receive $108,000 a year. When she is 5, she will receive $48,000, then $52,000 a year until she is 18 or 23, depending on if she goes to college.
Belcher's mother, Cheryl Shepard, said Wednesday that Zoey is doing "fine." Shepard didn't add much else but to say that she herself hasn't eaten or slept much since the tragedy.