Kansas City Chiefs Players Attend Memorial For Jovan Belcher Following Horrifying Murder Suicide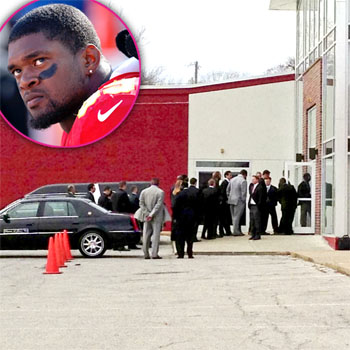 Article continues below advertisement
As RadarOnline.com previously reported, Belcher shot and killed his 22-year-old girlfriend, Kasandra Perkins, on Saturday morning after the pair got into a heated argument, then traveled five miles to the Chiefs' Arrowhead Stadium where he was met by general manager Scott Pioli and coach Romeo Crennel, where Belcher thanked them for all they'd done for him before shooting himself.
Traveling in four charter buses, the members of the organization made the somber five-minute journey to the Landmark International Deliverance of Worship Center and quietly filed in the back door.
Earlier in the day the 25-year-old linebacker's locker remained untouched while his former teammates changed from their NFL practice gear into formal black suits to say goodbye.
"We are definitely thankful for the opportunity we have to see him one last time before he goes back home and everything," said cornerback Travis Daniels. "A lot of the guys are still hurting."
In a statement sent to RadarOnline.com, Chiefs Chairman and CEO Clark Hunt said the team has brought in counselors for all the players along with Crennel, Piolo and Gary Gibbs, to cope with what they witnessed. "As an organization, we really want to make sure we stay focused on them," said Hunt.
Article continues below advertisement
"They went into the mode of, 'Hey, we have to play a game tomorrow and we have got a job to do,' but I also know they have a lot of pain on the inside and we need to be attentive to that and make sure it is being addressed."
The Chiefs altered their practice, meeting and news media schedules on Wednesday for the service. The team will also be represented at a memorial service for Belcher's slain girlfriend, Kasandra, though details of that service have not been released.
"Truthfully, the Chiefs lost two members of our family. Kasandra had been part of our Chiefs Women's Organization and had done things in the community. My family knew her, all the wives knew her. We wanted to make sure we honored both families. It also brought some attention to the fact that they've got an orphaned daughter, Zoey, who's going to need looking after," vowed the CEO.
RELATED STORIES: