Cops: Jovan Belcher Slept Outside Home Of Other 'Girlfriend' Hours Before Murder-Suicide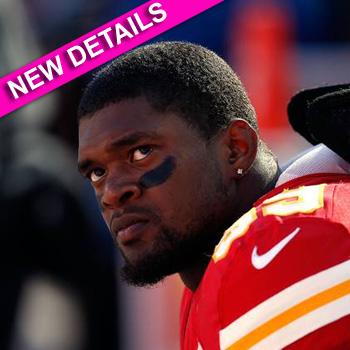 In a new development in the murder-suicide of Kansas City Chiefs player Jovan Belcher and girlfriend Kasandra Perkins, police said they spoke with the linebacker after he slept in his vehicle early Saturday outside of the Kansas City apartment building of a separate woman he identified as his girlfriend.
The new information spurs speculation Belcher was dating another woman, as the location officers spoke to him at was 10 miles away from the home he and Perkins shared with their 3-month-old daughter, Zoey.
Article continues below advertisement
Officers responded to a report of a man sleeping in his car at about 2:50 a.m. and found Belcher "very cooperative" when they approached him, police spokesman Darin Snapp said Tuesday.
"We ask him 'Why are you sleeping here?' and he says he's there to visit his girlfriend, but she's not home," Snapp said, adding that after the linebacker made a phone call, a woman let him into the apartment.
"When he was sleeping she may have come home, and he didn't realize," Snapp said, adding that witnesses reported seeing the late NFL defender leave the apartment at about 6:30 a.m., about an hour and 20 minutes before they were notified of the Perkins shooting.