Exclusive
NFL Murder-Suicide Motive: Player Argued With Girlfriend About Baby's Paternity Before Rampage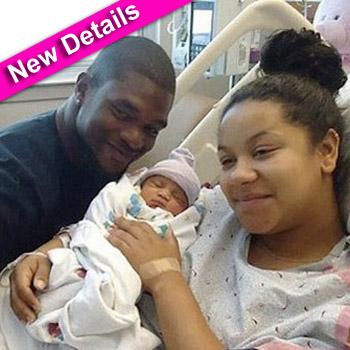 Article continues below advertisement
Cheryl Shepherd, Belcher's mother, was in his home when he shot Perkins dead on December 1 before driving to the Kansas City Chiefs' facilities and committing suicide in front of his coach.
"The mother believed that there was an issue over whether Belcher was the father," a source told the New York Post, which broke the story.
Belcher kissed Perkins on the forehead after murdering her. And while the couple had been in counseling the exact motive for Belcher's violent spree has remained a mystery until now.
"The implication was that paternity was what the two of them were fighting about — that the baby might not have been his," the Post quotes a source close to the situation explaining, adding that Belcher's mom also believed her son might not have been the father of the child.
The player's mom expressed this to law enforcement investigating the murder-suicide. Shepherd was at the couple's house when Belcher snapped and she called 911 after he killed Perkins.
MORE ON:
Celebrity Justice
Article continues below advertisement
Zoey is being raised by Perkins' family and will receive more than $1 million in NFL benefits as Belcher's beneficiary.
Perkins family declined to comment on the paternity issue as a possible motive behind the tragedy.
But Belcher had been out with another woman the night before he snapped, and police found him sleeping in his car in front of her house. They roused him and he went inside the woman's home to sleep for a few hours before returning to the home he shared with Perkins and killing her.