6 Celebs Who Put The Moves On NFL Stars!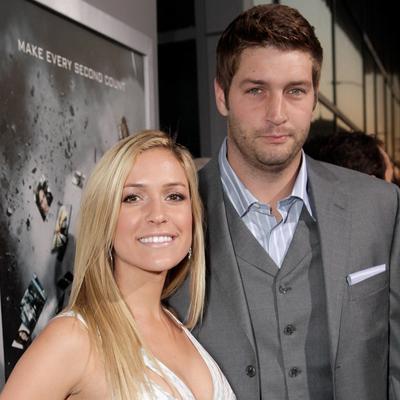 Pro football is hard enough without the distractions of a celebrity partner. And since these jocks hooked up with famous women, none of them has brought home a Super Bowl ring. Here, Star magazine takes a look at the Hollywood hotties who romance NFL players.
JAY CUTLER & KRISTIN CAVALLARI
The Chicago Bears QB and the reality starlet welcomed their first child on aug. 8, but since they began dating in 2010 he's won only one playoff game.
Article continues below advertisement
MARK SANCHEZ & EVA LONGORIA
The hunky N.Y. Jets quarterback and the former Desperate Housewife recently confirmed they're an item. But instead of making dinner plans with Eva, Mark may want to spend more time building chemistry with his receivers, lest beefy backup Tim Tebow take over.
TOM BRADY & GISELE BÜNDCHEN
They're one of the bestlooking couples on the planet. But since the now married pair began dating in 2006, the three-time Super Bowl winner has lost his last two championship games.
HANK BASKETT & KENDRA WILKINSON
When they first began dating in 2008 Hank was a respected, if not a star, wide receiver. But since marrying Playboy model and reality star Kendra in 2009, Hank's career has imploded, and he's now out of football.
TONY ROMO & JESSICA SIMPSON
Opposing fans had a field day with Tony and Jessica's relationship in 2007 and 2008, with many sporting Jessica masks to rattle the talented yet shaky Cowboys QB. Since the pair split in 2009, Tony has yet to win the big game.
KYLE BOLLER & CARRIE PREJEAN
She may not know about much (like maps), but the former Miss California landed Kyle in 2010. He was a raiders QB when they wed, but he has since retired from football.