Don't Believe The Hype! Dating Website's Self Professed 'Nice Guys' Unveiled As Being Anything But!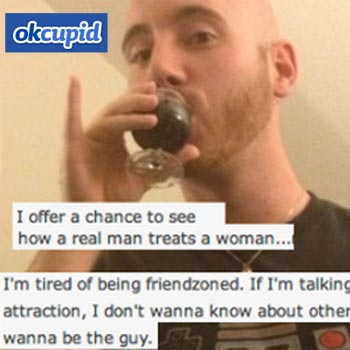 We admit - we love scouring the Internet for the snark, and we've struck gold with "Nice Guys of OkCupid," a look into fellas on the popular dating website who proclaim they're "nice guys" though their profiles seem to strongly indicate otherwise, strewn with misogynistic content.
For example, one Emo-esque gent grouses, "I am so tired of the fake ass girls complaining that men are a**holes and jerks and how they just want a nice guy who treats them right. This nice guy has been under your g* d*ned nose this entire f**ing time holding your hand. Nice guys will never ask you to do anything twice you are not comfortable with."
Article continues below advertisement
Of course, that doesn't quite square with the "nice guy's" answers from an OkCupid questionnaire in which he affirmed that he believes there are circumstances in which women are "obliged to have sex with men."
Another fella also says all the right things in his carefully manicured profile blurb, stating, "I believe women should be treated with respect and loved for who they are. Why such amazing girls end up with a**holes and that nice guys finish last?"