Jack Osbourne's Wife Slams 'Bat S**t Crazy' Taylor Swift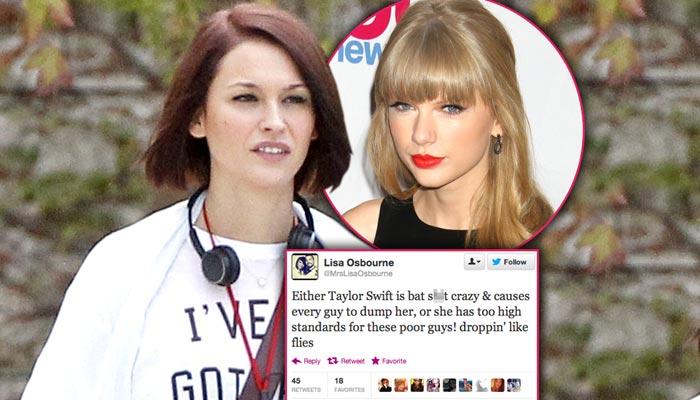 Taylor Swift's show business dating spree continues to irritate famous people. Or at least their relatives.
The latest is Jack Osbourne's wife Lisa, who called the We Are Never Getting Back Together singer's sanity into question after her latest fling -- with boy bander Harry Styles -- fizzled in a flash.
"I usually find out when Taylor Swift breaks up with someone before I even knew they were dating. That's how fast these things happen," Lisa, 26, wrote on Twitter. "Either Taylor Swift is bat s**t crazy & causes every guy to dump her, or she has too high standards for these poor guys! droppin' like flies."
Article continues below advertisement
The Harry fling earlier rankled rapper Eminem's daughter Hailie Mathers, who tweeted after the news broke, "Dear @taylorswift13, please stop whoring around with every guy you see. We all know you're only doing it so you can make another album."
The 22-year-old country crooner, known for singing about her break-ups, has also dated celebrities such as John Mayer, Jake Gyllenhaal, Joe Jonas, Taylor Lautner and Cory Monteith.
Jack became engaged to Lisa, an actress, in September 2011, and the two welcomed their daughter Pearl in April 2011.