Jack Osbourne Shows Off Baby Daughter Pearl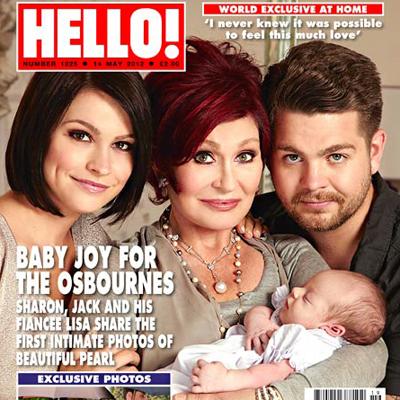 New dad Jack Osbourne and his fiancée Lisa Stelly show off their first child Pearl on the cover of the new issue of Britain's HELLO! Magazine with proud grandma Sharon Osbourne doing the honors of cradling the baby girl.
Pearl -- whose grandfather is rocker Ozzy Osbourne and her aunt is Kelly Osbourne -- was born April 24 in Los Angeles and weighed in at 8 lbs., 6 oz.
"People say when you have a kid it's like instant love, but unless you've experienced it, it's impossible to comprehend," Jack, 25, tells HELLO!
Article continues below advertisement
Osbourne had only been dating Lisa, 26, for a few months when she told him she was pregnant, and he admits it took him off guard.
"I think I responded with 'That's interesting'," he reveals. "What do you say? If we'd been trying for two years, of course you'd be like 'Awesome!' But we met in May and found out in August.
"I told Lisa: 'You need to give me a week to really take this in'. I had that time to get my head around the whole situation."