Addicted To Love? Taylor Swift Admits 'Boyfriend Issues' Are Her Favorite Thing To Talk About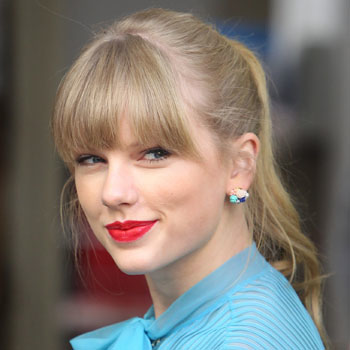 Taylor Swift is gonna have to face it – she's addicted to love!
The 22-year-old country superstar, who is famous for writing songs about her ex-boyfriends, opens up in a new interview with Country Weekly about her obsession with love and that her "favorite thing to talk about" is boyfriend issues, and RadarOnline.com has the details.
"I end up in conversations about relationships no matter what," she admitted to the country music magazine with a smile. "When I talk to fans and I see them in public or I run into them at Starbucks or at the airport or something, they always ask me about their boyfriend issues, and I love it! It's my favorite thing to talk about."
Article continues below advertisement
Swift, who is currently dating 18-year-old high school student Conor Kennedy, never gets tired of the topic of love.
"I just love talking about love," she continued. "I love writing about love. I love thinking about love because it's so unpredictable."
It should come as no surprise that when asked about her biggest fear, the country sensation replied, "losing someone I love."
To read more on Taylor Swift, pick up the October 29 issue of Country Weekly.