Here We Go Again! Taylor Swift Writes Another Revenge Song About Ex Boyfriend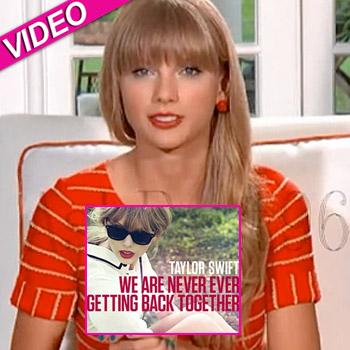 By Alexis Tereszcuk - RadarOnline.com Entertainment Editor
As Taylor Swift spends her summer in a Kennedy dream world, her new single is another revenge song against an ex-boyfriend who did her wrong.
Titled We Are Never Ever Going To Get Back Together, Taylor introduced her song to a group of fans saying: "So this is the new single. It's a really romantic song," and sarcastically said "It's really touching and sensitive... for my lovely ex-boyfriend."
Article continues below advertisement
The lyrics say that Taylor's boyfriend cheated on her, but the guy isn't named, leading to much speculation about who would dare to cheat on Taylor knowing that she is likely to pen a scathing revenge song about him.
"I remember when we broke up the first time... I've had enough because we haven't seen each other in a month. When you, said you, needed space, what?
"Then you come around again and say, 'Baby, I miss you and I swear I'm gonna change.' Remember how that lasted for a day. I say, 'I hate you,' we break up, you call me, 'I love you.'"
Taylor is currently dating Conor Kennedy and her last famous boyfriend was Jake Gyllenhaal, but she doesn't say who it was that made her mad enough to write another song.
"We called it off again, but this time I'm telling you we are never ever ever ever getting back together," she sings.
Taylor has famously previously written songs about Joe Jonas (two: Forever and Always, and Last Kiss), Cory Monteith (Mine), Taylor Lautner (Back to December) and John Mayer (two: Dear John and the Story of Us).
Article continues below advertisement
Mayer, for one, was none to pleased to immortalized in song by his short-tern ex-girlfriend. As RadarOnline.com previously reported, the Your Body Is A Wonderland singer told Rolling Stone that Dear John made him feel "terrible," as he looked at it as a series of cheap digs communicated through shoddy songwriting.
Some of the 2010 song's possible-powderkeg lyrics include the lines: "Dear John, I see it all, now it was wrong … don't you think 19 is too young to be played by your dark twisted games, when I loved you so?"
Mayer told the magazine: "I was really caught off-guard, and it really humiliated me at a time when I'd already been dressed down. I mean, how would you feel if, at the lowest you've ever been, someone kicked you even lower?
"I'm pretty good at taking accountability now, and I never did anything to deserve that," he said. "It was a really lousy thing for her to do.
"I know she's the biggest thing in the world, and I'm not trying to sink anybody's ship, but I think it's abusing your talent to rub your hands together and go, 'Wait till he gets a load of this!' -- that's bullsh*t," said Mayer, adding he "never got an e-mail … or a phone call" about the song in advance.
Check out the video below and tell us in comments who you think Taylor says she'll never ever date again!