Bikini Babe Taylor Is Swiftly Becoming A Kennedy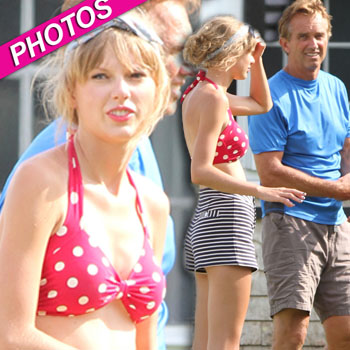 By Alexis Tereszcuk - Radar Entertainment Editor
Taylor Swift is rapidly morphing into a Kennedy as she vacations with American's political dynasty family and RadarOnline.com has photos of her classic new look.
The 22-year-old singer has been dating Robert F. Kennedy Jr.'s oldest son Conor Kennedy and she's staying at the family's Hyannis Port, Mass. compound where she was photographed in a stylish red and white polka dot bikini top and striped shorts over the weekend.
Article continues below advertisement
With her hair pulled back she is channeling the late Jackie Kennedy's easy glamour as she chatted with Conor's dad during the day.
Meanwhile, Taylor has reportedly bought an almost $5 million house across the street from Conor's grandmother Ethel Kennedy, who recently said they would all be thrilled to welcome the singer to the family.
Conor and Taylor are spending a lot of time together; she even introduced her boyfriend to her parents in Nashville last week!