Exclusive
Notre Dame Football Star Manti Te'o's 'Dead Girlfriend' Hoax 'Could Cost Him NFL Career,' Says Crisis Expert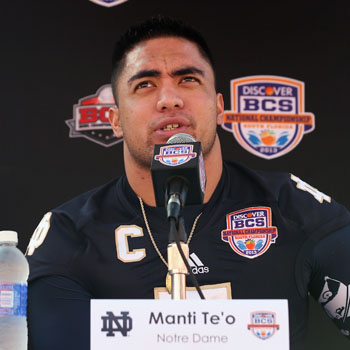 Whether he was dishonest and deliberately lied with his "dead girlfriend" sob story or was dumb enough to be fooled in an Internet scam, Notre Dame football star Manti Te'o's golden future in the NFL is ruined, RadarOnline.com can exclusively reveal.
"He was deceptive or gullible, either way he does not move on unscathed. This is going to follow him for the rest of his life, personally and professionally," Michael Bilello, President and CEO at Centurion Strategies, a public relations and marketing agency that handles high-profile athletes, told RadarOnline.com in an exclusive interview.
Article continues below advertisement
"Notre Dame has to hope that he is this dumb, but then they have to answer - how he was an honor student there?"
As RadarOnline.com previously reported, the college linebacker won the attention of the nation with the tragic revelation that just days after the death of his beloved grandmother last September, he learned that his girlfriend, Lennay Kekua, had been involved in a serious car accident in California, and was then had been diagnosed with leukemia, which she soon succumbed to.
Now, according to a groundbreaking expose by Deadspin.com, it has been revealed that the story is the biggest piece of sports fiction since Field Of Dreams – and his sweetheart not only didn't die – doesn't even exist!
The revelation sparked a fast response from Notre Dame University, who released a statement on Wednesday saying that they knew that their star player had been involved in a hoax since December 26. "The school spokesman did not put him in a good position. They are supposed to look out for their students' best interests but they confirmed it was strictly an online relationship, and had the 60-year-old spokesperson try to describe 'catfishing!'"
Article continues below advertisement
"Te'o either needs to come out now and say, 'I made this up,' or 'I am not a bright individual and I am gullible, and I fabricated what I thought was a real romance and was actually catfished'," said Bilello. "Regardless, it is not good for him and I don't think we've ever seen anything like this previously."
The 22-year-old former Heisman Trophy hopeful is currently training in preparation for the NFL draft at the IMG Institute in Bradenton, Florida, but the scandal will most certainly dramatically reduce his prospects as a professional athlete, said our crisis management expert.
"We know that the NFL is looking much closer into players' conduct before the draft and no one wants anyone who is going to cause any problems on or off the field," Bilello told RadarOnline.com.
"This is going to cost him serious money in terms of where he goes in the draft, and more importantly, the consumer products and the endorsement deals he will lose because the public are not going to buy into the reality that the greatest point in his college career was fabricated.
Article continues below advertisement
"He's a talented athlete so what made him think that he needed this to elevate his career? Who else was involved – friends, parents? It is all about accountability."
The scam is reportedly the online creation of Ronaiah Tuiasosopo – the former high school classmate of the woman in the fake photos – and some friends are alleging that he not only knew Te'o, but they are also "80 percent sure" that Manti participated and did so with publicity in mind.
One of Te'o's former teammates at the historical South Bend, Indiana university told ESPN that Manti either participated in or knew about the hoax that his girlfriend did not exist, and that he "played along," as condolences rolled in over her death because he loved the attention.
All those involved in the online dating debacle should have the finger of blame pointed at them, believes Bilello.
"In light of the Jerry Sandusky Penn State scandal where we saw a university not act in the best interest of its student athletes, if Notre Dame knew something that impacted a student player's character, they certainly did not act in the most upright way as a Catholic School," he told RadarOnline.com.