NFL Player Torrey Smith Honors Brother Who Died In Motorbike Crash Hours Before Game Time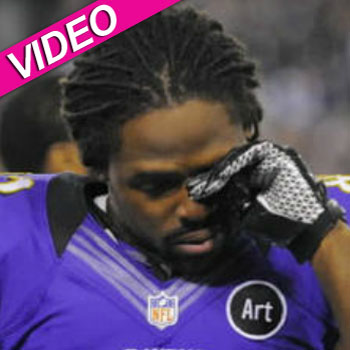 By Debbie Emery - RadarOnline.com Reporter
Just 18 hours before he took to the field to face off against the New England Patriots, NFL player Torrey Smith received the devastating news that his little brother had been killed in a motorcycle crash.
Despite being sleep-deprived after staying up all night crying with his family, the Baltimore Ravens wide receiver bravely played on and when he caught a 25-yard touchdown pass during Sunday night's 31-30 win over Tom Brady's team, he dropped down on one knee pointing up towards the sky in a sign of public mourning.
Article continues below advertisement
Tevin Jones, 19, died on Saturday night after his motorcycle struck a utility pole in the Montross area of Virginia, the Baltimore Sun reported. Although he was wearing a helmet, he was pronounced dead at the scene.
According to Virginia State Police Sgt. Thomas J. Molnar, "Alcohol is not a factor in the crash," which remains under investigation.
The loss was even more traumatic for his football player big brother, who had been a father figure to his six younger siblings growing up while their single mother, Monica Jenkins, worked long hours to support them.
"It was tough emotionally," Smith said after the game in which he scored two touchdowns and had six receptions for 127 yards. "I didn't know how I would hold up. This is new territory for me personally. I never really had to deal with a death in the family, let alone my brother.
"It's part of life and, due to my teammates and my family and friends, I'll be able to get over it," he vowed.
Smith was given the option by his coaches to miss the big game, but instead he made the brave move to hit the field hard. "I didn't want to be out there, just running around, doing nothing. If I was going to be out there, I was going to give it my all. You're on the lines, you just want to make the play.
Article continues below advertisement
"Obviously, you play with a heavy heart. You want to play for that person. My mom, all my family, they didn't even know I was going to play until the last minute. She was like, 'Of course, he'd want you to play.' He admired me so much, and it's just a tough situation altogether," he went on to reveal.
Torrey has now vowed to place the game-winning ball on Tevin's coffin at his funeral. Sadly, there will be little time for mourning as Smith will quickly have to suit up again when the Ravens play the Cleveland Browns on Thursday night.
Smith announced the loss on his Twitter page on Sunday morning, writing, "I can't believe my little brother is gone. Be thankful for your loved ones and tell them you love them. ... This is the hardest thing ever."
He then posted a photograph of himself and his brother, with the caption: "I can't say a bad thing about him...proud to have him as a brother...RIP Tevin."
Smith's teammates all credited his bravery and focus in the face of adversity.
Article continues below advertisement
Usher Gets Full Custody Of Sons With Ex-Wife Tameka Raymond
Usher's Ex-Wife, Tameka Raymond Puts Reality Show On Hold After Tragic Death Of Son