Former New Orleans Saints Player Jeremy Shockey Accused Of Snitching In Bounty Scandal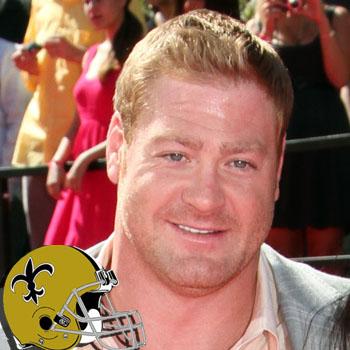 By Debbie Emery - Radar Reporter
Proving that it's not only reality stars who have Twitter feuds, the claws came out in the NFL on Wednesday when former New Orleans Saints player Jeremy Shockey was accused of snitching on his teammates by spilling the beans on the controversial bounty program.
The finger of blame was pointed by former NFL defensive tackle Warren Sapp, who tweeted "Just Heard Who The Snitch Was," and then "Bingo!" when asked if it was Shockey, who has adamantly denied turning on his team.
Article continues below advertisement
"It's reckless, it's careless, it's hurtful to me and the great time I had with the Saints," said free agent tight end Jeremy, who twice offered to take a polygraph test to prove his innocence, reported Yahoo! Sports.
"Sean Payton is a father figure to me. I would never do that to him or to the Saints. I have been to his son's birthday parties. I've had my family around him. We're friends," explained Shockey, who scored the winning touchdown in the New Orleans' Super Bowl victory over the Indianapolis Colts in 2009. "I loved my time in New Orleans and now people are killing me on social media thinking I did this."
As RadarOnline.com previously reported, two years after he led his team to a spectacular Super Bowl win, Saints coach Sean Payton has been slapped with a 12-month suspension for his role in the bounty system scandal.
The harsh punishment resulted from an in-depth investigation by the NFL, which found that more than 20 defensive players for the Saints participated in a 'bounty' system from 2009 to 2011 that rewarded individuals with cash for harming opposing players. The cash pool reached $50,000 during the 2009 playoffs when players were paid $1,500 for a "knockout" and $1,000 for a "cart-off."
Article continues below advertisement
The underhand and very public accusation by NFL Network analyst Sapp goes against the football league's policy of not turning in sources, and NFL Commissioner Roger Goodell has repeatedly said he would protect "whistleblowers" who reported violations of league policy.
As for Sapp, he is defending his actions, and his source. "My source that was close to the situation informed me that Jeremy Shockey is the one that was the snitch initially. I trust my source unequivocally," he declared.