New Orleans Saints Coach Sean Payton Gets One Year Suspension For Bounty Scandal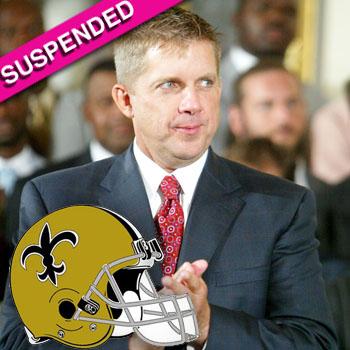 By Debbie Emery - RadarOnline.com Reporter
Two years after he led his team to a spectacular Super Bowl win, New Orleans Saints coach Sean Payton has been slapped with a 12-month suspension for his role in the bounty system scandal.
In addition to sacrificing their highly respected head coach for a year, the Saints will also lose their second round picks in the 2012 and 2013 NFL drafts and be fined $500,000, while former defensive coordinator Gregg Williams was suspended indefinitely, and general manager Mickey Loomis is banned from the first eight regular-season games, reported ESPN.com.
Article continues below advertisement
The harsh punishment resulted from an in-depth investigation by the NFL, which found that more than 20 defensive players for the Saints participated in a 'bounty' system from 2009 to 2011 that rewarded individuals with cash for harming opposing players.
The cash pool reached $50,000 during the 2009 playoffs when players were paid $1,500 for a "knockout" and $1,000 for a "cart-off," with payouts doubling or tripling during the playoffs.
Williams ran the scheme, and while the NFL does not believe that Payton was a direct participant, he was aware of the payouts and "failed to stop the bounty program."
"We are all accountable and responsible for player health and safety and the integrity of the game," NFL Commissioner Roger Goodell said in a statement on Wednesday. "We will not tolerate or conduct a culture that undermines those priorities. No one is above the game or the rules that govern it.
Article continues below advertisement
"A combination of elements made this matter particularly unusual and egregious," he explained. "When there is targeting of players for injury and cash rewards over a three-year period, the involvement of the coaching staff, and three years of denials and willful disrespect of the rules, a strong and lasting message must be sent that such conduct is totally unacceptable and has no place in the game."
High profile players who were targeted by the bounty scheme include veteran quarterbacks Brett Favre and Kurt Warner.
Payton will be suspended without pay, effective from April 1. Punishment for individual players will be decided at a later date after the case has been reviewed by the NFL Players Association.
Goodell has become known for his no-nonsense, hard-line approach to league violations. He previously fined the New England Patriots $250,000 and their coach, Bill Belichick, $500,000, for their role in the 2007 Spygate scandal, in which they were caught illegally videotaping the New York Jets' sideline.