Tameka Raymond Tweets After Usher Custody Battle Loss: 'Money Can Buy Many Things'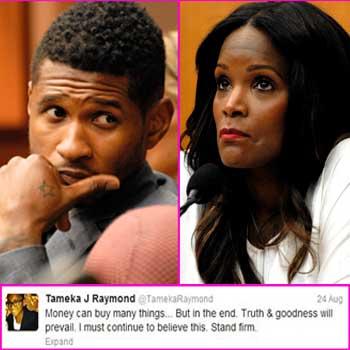 Money can't buy you love but Usher's ex-wife says wealth is a powerful tool in life .
Tameka Raymond is speaking out after an Atlanta judge awarded the R&B singer full primary custody of their two sons on Friday.
Following the shock ruling, the hairstylist – who was married to the platinum-selling singer for two years, tweeted: "Money can buy many things…But in the end. Truth & goodness will prevail.
Article continues below advertisement
"I must continue to believe this. Stand firm."
Earlier she wrote other cryptic messages including one saying: "A woman's loyalty is tested when her man has nothing…
"A man's loyalty is tested when he has everything!"
It has been a rough year for the mother-of-five whose 11-year-old son from a previous relationship died after being involved in a jet-skiing accident.
The tragedy happened in the middle of a bitter court battle the former couple waged to get custody of their sons – Usher Raymond V, four, and Naviyd, three.
MORE ON:
Celebrity Justice
As RadarOnline.com previously reported, the grieving mother told GlobalGrind: "Sadly I remain in the unfortunate position of having to respond to and attend court proceedings that were not initiated or begun by me.
"I did not file this custody case and was content with the 'joint custody' arrangement that we share."
However during the closing arguments Usher's attorney, John Mayque, told the judge: "We believe the evidence is that Ms. Raymond is incapable of being a proper parent to these children, that she does not have the emotional stability or capacity to bond with them and therefore she's handicapped."