Usher's Ex-Ewife Tameka Raymond Holds Funeral For Son After Jet Ski Accident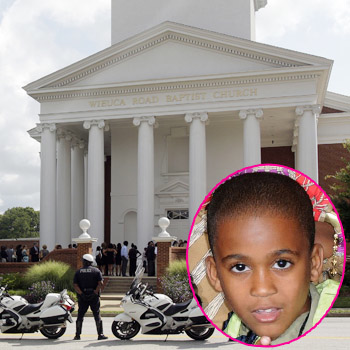 By Debbie Emery - RadarOnline.com Reporter
Heartbroken Tameka Raymond was joined by family and friends on Friday to lay her 11-year-old son, Kile Glover, to rest six days after his tragic death.
The funeral was held at 11 a.m. local time at the Wieuca Road Baptist Church on Peachtree Road in Atlanta, Georgia, and it is not yet known whether the boy's famous former step-father, Usher, was among the mourners.
Following a tragic accident on July 6 when Kile and a female friend were hit by a jet ski as they were being pulled on an inner tube by a pontoon boat in Lake Lanier, Kile was pronounced brain dead. He was taken off life support was last Saturday.
Article continues below advertisement
Having struggled to accept the loss of her child, Tameka finally broke her silence on Thursday to thank her fans for their support. "I appreciate the hundreds, perhaps thousands of prayers. I'm so grateful to you guys. Kile was the most fun, creative, sweet, respectful boy," she wrote on Twitter.
Along with asking well-wishers to donate to the Kile Glover Fund in lieu of flowers, she pledged that some good would come out of her pain. "Our goal is to increase water safety through implementing laws, policies and education. Kile's passing will not be in vain, we will see to this."
As RadarOnline.com exclusively revealed, Raymond was devastated by the accident and had hoped that a miracle would bring her baby back even after doctors gave up hope.
"Kile was one of the loves of her life -- she adored him. She used to call him her most helpful child and would gush about how smart he was," a family friend exclusively told RadarOnline.com.
"This incident was just so random -- there should never have been a jet ski that close to an inner tube with two young kids, it just doesn't make sense.
Article continues below advertisement
"My only hope is that Tameka's spirituality and devotion to God will help her pull through this ineffable moment in her life, and bring some comfort," she went on to say.
"This is a woman who lost the man of her dreams, her reputation and now her son within the course of four years. My heart goes out to her. Nobody deserves this pain."
Fashion stylist Tameka, 44, had two children with Altanta-based clothier Ryan Glover before she married Usher in August 2007, and went on to have two children, Usher V, 4, and Naviyd, 3, with him. Their divorce was finalized in November 2009 and they are currently embroiled in a bitter custody battle.
Kile and his friend were run over in the water by Jeffrey S. Hubbard, and while the Georgia Department of Natural Resources agents investigating the tragedy said that alcohol was not involved, they do not know what caused the crash and depending on their findings, they may or may not recommend that the district attorney press charges.
Tameka asks that anyone wanting to donate should please e-mail: TheKileGloverFund@gmail.com.