Tameka Raymond Speaks Out About Son's Death, Vows To Fight Usher For Custody Of Other Kids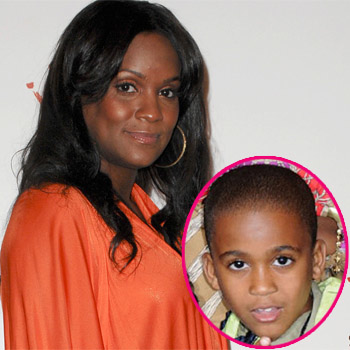 By Debbie Emery - RadarOnline.com Reporter
Mourning mother Tameka Raymond made a public statement on Friday thanking supporters for their sympathy in the aftermath of her son's fatal accident, while also addressing her bitter custody battle with ex-husband Usher.
"To begin, I would like to express my sincere gratitude to the countless number of people who opened their hearts, extended their prayers, well-wishes and remained hopeful for my son Kile during the last weeks of his life," wrote Raymond in a personal message on GlobalGrind.com.
Article continues below advertisement
As RadarOnline.com previously reported, Tameka was joined by family and friends on July 27 to lay her 11-year-old son, Kile Glover, to rest six days after he died following a tragic accident on July 6 when he and a female friend were hit by a jet ski as they were being pulled on an inner tube by a pontoon boat on an Atlanta, Georgia lake.
"I feel humbled by everyone's show of concern, and knowing that Kile Glover touched the lives of so many has given me strength during my worst & darkest hour … Again I THANK YOU ALL!"
The 44-year-old went on to discuss the custody dispute with Usher over her two younger children with the music guru, Usher V, 4, and Naviyd, 3.
"Sadly, I remain in the unfortunate position of having to respond to and attend court proceedings that were not initiated or begun by me. I did not file this custody case (January 2011) and was content with the 'joint custody' arrangement that we share," she told GlobalGrind.
Article continues below advertisement
"Most importantly, nor do I wish to appear in court while I am mourning the loss of my son. But I do not want to delay thus prolong these proceedings either; I'd rather continue this arduous process hoping it will help move me through this most difficult period in my life," she wrote.
The legal wrangling between the former couple got nasty earlier this year amid allegations of cheating, drugs, excessive partying and child neglect.
"People seem to be privy to only my filed responses as 'Defendant' to the initiation of this case (Jan 4, 2011), when I have only been defending myself and protecting the best interests of my children through my counsel. I cannot control how the media reports are written/slanted/spun or even how court documents may be manipulated in their attribution of certain statements as if they are direct "quotes" from me- yet I can control what I actually say myself.
Article continues below advertisement
"This may sound really cliche but you must NOT believe everything you read or hear and never judge… especially without solid facts and always, but always consider the source. Discernment is key. My boys are my entire world and I will fight tooth and nail to keep all of my sons together as a family, I pray for a swift, peaceful resolution so that we all can move forward," said Raymond.
Tameka closed her heart-wrenching statement offering thanks for the positive energy during her family's "surreal" time that has provided her shelter through the storm.
After meeting in January 2007, Usher and Tameka were married in a private ceremony the following August. Sadly, wedded bliss was short-lived and in February 2009, Tameka suffered a cardiac arrest in Sao Paulo, Brazil, while reportedly prepping to get plastic surgery. Despite rallying to his wife's aid, Usher filed for divorce that June claiming they had lived apart for almost a year.
RELATED STORIES: