Exclusive
Usher's Ex-Wife, Tameka Raymond Puts Reality Show On Hold After Tragic Death Of Son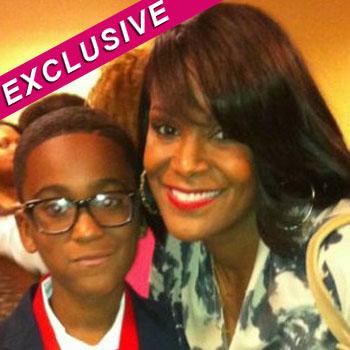 Article continues below advertisement
"About a year ago Tameka was working out the details with the production company and deciding who she was going to go with," a source close to the reality project exclusively told RadarOnline.com, explaining that the 41-year-old hadn't officially started filming yet.
"It was going to focus on her life, kids, business ventures, etc. However, it is unclear now if she will be following through with the show after the death of Kile - I'm sure that's the last thing on her mind."
As RadarOnline.com previously reported, following a devastating accident on July 6 when Kile and a female friend were hit by a jet ski as they were being pulled on an inner tube by a pontoon boat in Georgia's Lake Lanier, Tameka's son by Altanta-based clothier Ryan Glover was pronounced brain dead on July 21.
Raymond is currently in a high-profile and bitter custody battle with Kile's former stepfather, Usher, and despite having to sacrifice her reality aspirations for the time-being, she is not giving up the fight for their children together so easily.
Article continues below advertisement
"Sadly, I remain in the unfortunate position of having to respond to and attend court proceedings that were not initiated or begun by me. I did not file this custody case (January 2011) and was content with the 'joint custody' arrangement that we share," she recently told GlobalGrind.com.
"Most importantly, nor do I wish to appear in court while I am mourning the loss of my son. But I do not want to delay thus prolong these proceedings either; I'd rather continue this arduous process hoping it will help move me through this most difficult period in my life," she wrote.
Tameka first met the R&B singer in 2006 when she worked as his fashion stylist after previously dressing a number of celebrities including Mary J. Blige, Jay-Z and Ciara.
The couple was married in a private ceremony the following August and went on to have two children, Usher V, 4, and Naviyd, 3.
Sadly, wedded bliss was short-lived and in February 2009, Tameka suffered a cardiac arrest in Sao Paulo, Brazil, while reportedly prepping to get plastic surgery. Despite rallying to his wife's aid, Usher filed for divorce that June claiming they had lived apart for almost a year.