Outsourcing Love! 'Too Busy' Wall Street Exec Seeks Woman To Manage His Online Dating, Craft Witty Profile & Replies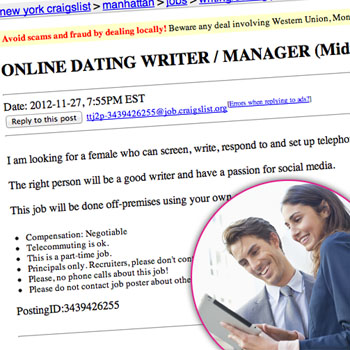 Where's Patti Stanger when you need her?
A Wall Street executive has placed an ad on Craigslist seeking a woman with the right words for love, "who can screen, write, respond to and set up telephone calls with potential dates from online dating websites.
"I am a busy Wall Street professional and don't have time to do this myself," he wrote in his ad. "The right person will be a good writer and have a passion for social media … this job will be done off-premises using your own computer."
Article continues below advertisement
The idea of outsourcing one's intimacy to the hands of someone with more time and better words is not brand new, as an entrepreneur named Scott Valdez founded his company Virtual Dating Assistants for just that purpose.
"One day it dawned on me that there was probably a demand for this service for overworked executives who want to meet people," Valdez, 27, told NBC News but don't have time."
No word on if the harried exec also wants his hired help to go on the dates on his behalf too!