Seven Things You Didn't Know About Notre Dame's Manti Te'o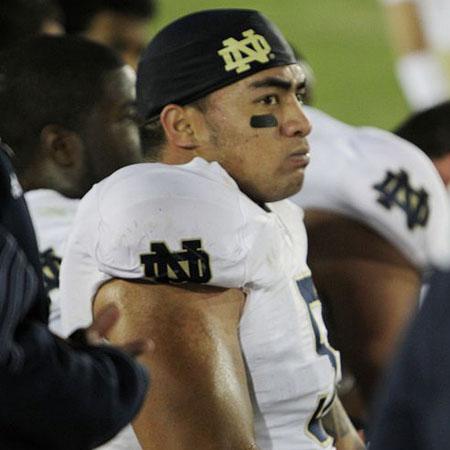 The tale of Manti Te'o has taken the country by storm, providing the most compelling story to emerge from Notre Dame since Sean Astin's memorable portrayal of Rudy. Whether Te'o's an innocent duped by a cunning catfish, or a part of a larger scheme, we're not here to speculate. What we will do, however, is tell you the facts on everybody's All-American, or at least the one everybody's talking about.
Article continues below advertisement
Without further adieu, we present to you seven things you might not know about Manti Te'o …
***
7. He's No Hoax Between The Lines: The All-American is an absolute stud on the gridiron, with the upside to emerge as one of the NFL's All-Pro linebackers in the near future. He's had at least 113 tackles in each of the last three seasons, and stayed a step ahead of opposing quarterbacks in 2012 with seven interceptions and 11 passes defended. His ridiculous production earned him a laundry list of post season awards, including second place in the Heisman Trophy voting; the Bronko Nagurski Award; the Chuck Bednarik Award; the Dick Butkus Award; the Maxwell Award; the Ronnie Lott Trophy; the Vince Lombardi Award; and the Walter Camp Player of the Year Award.
6. Not The First, Won't Be The Last: As of this writing, details on the hoax are unclear and we're not sure who the intended mark was … Te'o? The public? Someone else yet to be named? What we do know is that many other elaborate tales of fiction have gripped the country's attention, and in some cases, heartstrings. Among them: Lip-synchers Milli Vanilli, who took home (and later gave back) the Grammy for Best New Artist of 1989; Richard Heene, who got national news coverage for falsely reporting his son had floated away in a hot air balloon; and Orson Welles' 1938 War of the Worlds broadcast, which triggered panic and rumored suicides from listeners who didn't realize the alien invasion booming across their radio was just a show.
Article continues below advertisement
5. A Leader AND A Follower: The defensive standout - who has more than 183,000 followers on Twitter - is keeping tabs on a number of friends and celeb athletes (142, to be exact) on the social networking site. Among them: Lil' Wayne, Dwayne "The Rock" Johnson, Hope Solo, LeBron James, Reggie Bush, and in an ironic twist, a feed dubbed Love Quotes.
4. Hometown Hero: Te'o is nothing short of a prodigal son in his hometown of Laie, Hawaii, which rests on Oahu's northern shore. Brigham Young University maintains a presence in the predominantly Mormon community with a satellite campus. At the local school, children wear Notre Dame jerseys with Te'o's number, 5. Local school administrator Makala Paakaula says the athletic standout "always keeps giving back to his community."
3. Like Mitt: Like Republican presidential nominee Mitt Romney, Te'o practices the Mormon faith, which almost kept him from enrolling at the University of Notre Dame - arguably the world's most famous Catholic school with a student body that's 83 percent Catholic. "I've prayed hard about it and my family has thought hard and long about it," he said in 2009 of his decision to attend the school. Te'o's former high school coach, Kale Ane, said, "A lot of that weighed on him. The final weight was getting his message out on a broader scale. A Mormon at a Catholic school was a good way to say, 'You can keep your faith no matter where you go.'"
Article continues below advertisement
2. The scandal could cost him millions: Speaking with the AP Thursday, NFL draft consultant Gil Brandt said, "I think some teams will say it isn't worth the problem" that accompanies drafting the man currently at the center of attention. Brandt, the former general manager of the Dallas Cowboys, said that Te'o was projected as a sure-fire first rounder - 19th overall, to be exact - until a bad day in the BCS championship game iced his value some. (Last year's 19th overall pick, Bears defender Shea McClellin, inked a $4.4 million signing bonus.) The scandal, the expert said, could further erode Te'o's attractiveness to NFL teams.
1. #Trending Te'o: In this day and age of social media, the linebacker's tale has gone viral 2013-style, opening the floodgates of snarky comments, photoshops, tumblr parodies and Reddit threads. Among the most clever: A takeoff called Te'o-ing - modeled after Tim Tebow's Tebowing - that drew parallels between the football star's phantom lady love and Clint Eastwood's speech with invisible President Obama at last year's Republican convention.