Tim Tebow: Seven Eligible Bachlorettes For Football's 'Chosen One'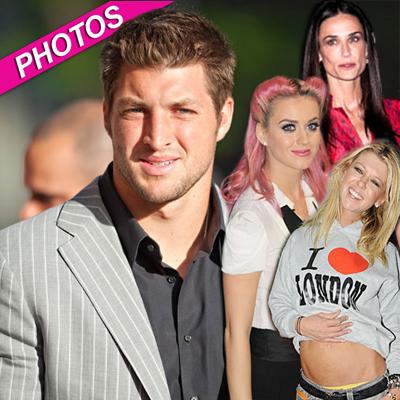 It's not just his movie star looks -- he's proven to be an excellent role model to youngsters, a pop culture sensation, an ace pitchman -- and we hear he's a heck'uva football player as well!
Yes, Tim Tebow-mania has swept the nation as the scrappy Denver Bronco quarterback continues to turn heads for his cult following, improbable comebacks and ironclad faith in the limelight.
Now, while we know Tim could probably romance any Hollywood starlet, Playboy Playmate or Broncos cheerleader he wants, he's made it clear he's holding out for the right lady.
Article continues below advertisement
That said, we've put together this dubious list of the seven bachelorettes that might -- or might not -- be a match for the 24-year-old hunk who wears No. 15.
7. Tara Reid: She's kinda been out of the limelight for a while, but the American Pie starlet lands on this list for a dubious short-term fling with Tom Brady in the fall of 2002. Since then, Tom's racked up two Super Bowl rings (2004, 2005), a perfect-regular season (2007) and the most passing touchdowns in single-season history (2007)...... Not to mention a supermodel wife. We think it would be a great career move for 'em both.
6. Lindsay Lohan: While LiLo's loves are usually restricted to Hollywood circles -- from hipster D.J. Samantha Ronson to the late Heath Ledger -- she reportedly once traded numbers with now-married New York Giant Eli Manning back in 2004 -- meaning it's not inconceivable she could hook up with a jock. Tebow's lifestyle and LiLo's might not mesh all too well, but as Paula Abdul once said, opposites attract. Bonus: Michael Lohan has been outspoken about his faith, though getting dad's blessing might not hold the same weight in this case.
Article continues below advertisement
5. Katy Perry: She's gorgeous, talented, rich, famous and most importantly, single, following her recent break-up with Russell Brand. Even better, she's got a set of ultra-religious parents who've openly mused about how they'd like to see the I Kissed A Girl singer and the Bronco QB mingle. A source told OK magazine the parents are partial to Tebow because "he's handsome, charming, intelligent and above all, a good Christian."
4. Demi Moore: She loves younger guys. She's single. And what better way to punk her estranged ex, Ashton Kutcher, who's getting a little long in the tooth at 33.
3. Elin Nordegren: After the Tiger Woods fiasco, we tend to think Elin will likely go for a more conservative, take-home-to-mom type of fella. Bonus: She lives in Florida, where Tim conquered during his collegiate career.
2. Sandra Bullock: She likes hunky quarterbacks, having dated Dallas Cowboy legend Troy Aikman. She likes younger guys, having dated Ryan Gosling. She won an Oscar for a football film. And the bad boy thing didn't work out too well last time.
Article continues below advertisement
1. Lauren Scruggs: Scruggs and Tebow both share a strong common bond: Faith. The Texas fashion blogger has gained the country's heart with her indomitable spirit in recovering from a tragic accident last month which she walked into a helicopter propeller after checking out Christmas lights from above. Since then, she and her family have (like Tebow) used their newfound fame to profess their devotion to Jesus Christ. You might not find two more devout twosome with faith and fortitude than these two have.