Tom Brady Vs. Tim Tebow, Facts Behind The Football Face-Off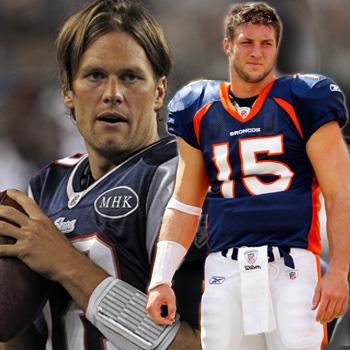 By Debbie Emery - RadarOnline.com Reporter
This Saturday, two of the most recognizable names in football will face off in the NFL playoffs as Tom Brady and the New England Patriots play Tim Tebow and the Denver Broncos, and RadarOnline.com compares the star quarterbacks.
The Patriots already beat the Broncos once this season when they met in Denver on December 18, but with God on his side and Tebowmania at an all-time high, don't be surprised if Tim pulls out another miracle on the field this weekend.
Article continues below advertisement
Biggest Fans: With Gisele Bundchen in a VIP suite cheering on her hot husband Tom -- and Jesus up above looking out for devout Christian Tebow -- it will be the supermodel versus the superpower at Gillette Stadium in Foxboro, Massachusetts this weekend!
Product Endorsements: Both players bring in big bucks in advertising dollars, and their ripped bodies and handsome faces make them easy on the eyes on both billboards and TV commercials. Earning an estimated $10 million a year, Brady, 34, is the face of SmartWater, UGG, Audi and Under Armor, and has endorsed Nike, Visa and Sirius. Tebow, 24, currently has deals with Jockey underwear, Nike and EA Sports that bring in $1 to $2 million a year, but that is expected to triple in 2012. It's not just ad execs that want a slice of Tebowmania: the GOP candidates are reportedly battling for his approval.
Championship Rings: After playing in four Super Bowls, Brady has three rings to show off -- two of them coming back-to-back in the 2003 and 2004 seasons -- and has been voted the NFL Most Valuable Player twice. Only in his second year in the league, Tebow has yet to win a professional championship, but does boast consecutive BCS National Championship victories while playing for the Florida Gators.
Romance: Tom Brady dated a string of famous females including Tara Reid and Bridget Moynahan (with whom he has a son), before marrying Victoria's Secret model Gisele in February 2009. The gorgeous couple welcomed an equally beautiful child when their son Ben was born the following December. The son of missionaries, Tebow's dating life is far less eventful as he has pledged to save sex for marriage and publicly confirmed in a post-game press conference that he is still a virgin - but he expresses his love for the Lord every day!
Article continues below advertisement
Draft Pick: Despite his phenomenal success in college, many people doubted that Tebow could make it in the NFL, but that didn't stop the Denver Broncos from snapping him up with their first-round pick during the 2010 NFL Draft. Brady was a relative unknown during his time at Michigan University and the Patriots made one of the best picks in NFL -- heck, sports -- history when they took him with the 199th pick in the sixth round of the 2000 draft.
SNL Appearances: While he's not as acclaimed a host as rival Peyton Manning of the Indianapolis Colts, Brady successfully hosted SNL in April 2004. Tebow has yet to take the reins on the show but was the subject of this season's funniest skit in which Jesus (played by Jason Sudekis) came to visit him in the locker room and told him to "Take it down a notch," adding "If I'm the son of God, Tom Brady's gotta be the guy's nephew. That guys a miracle worker."