Vivid Entertainment Names Its 'Hottest Couples' Sex Tape Wish List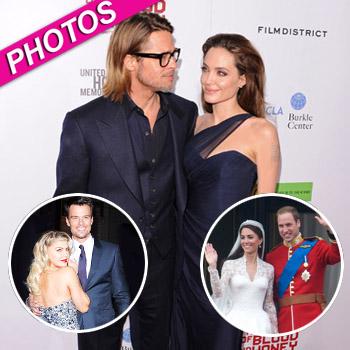 Sex tape distributor Vivid Entertainment has released its second annual 'Hottest Couples' list of people it would most like to add to its Vivid-Celeb series.  Vivid has already marketed tapes starring Pamela Anderson, Kim Kardashian, Kendra Wilkinson and Tila Tequila.
"To our knowledge Prince William and Kate have never made a sex tape, but if they did it would be the best-seller of all time," founder and co-chair Steve Hirsch tells RadarOnline.com.
Article continues below advertisement
"Meanwhile, there are plenty of other pairings we can imagine that would come pretty close to them. My wish list this year includes only one repeat couple -- Brad Pitt and Angelina Jolie, and one repeat individual, George Clooney."
Here's the entire Hottest Couples list: Prince William and Kate Middleton, Angelina Jolie and Brad Pitt, George Clooney and Stacy Keibler, Gisele Bundchen and Tom Brady, Fergie and Josh Duhamel, Kristen Stewart and Robert Pattinson, Khloe Kardashian and Lamar Odom, Ryan Gosling and Eva Mendez, Ellen DeGeneres and Portia de Rossi, and even though they've just split, Katy Perry and Russell Brand.
"There is no doubt that these couples are hot.  Any fan of adult movies would go crazy to see their tapes," says Hirsch.
RELATED STORIES: